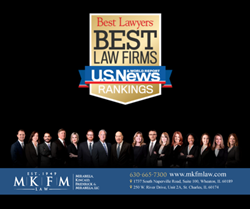 WHEATON, Ill. (PRWEB) November 12, 2019
Firms included in the 2020 Edition of U.S. News – Best Lawyers® "Best Law Firms" are recognized for professional excellence with consistently impressive ratings from clients and peers. To be eligible for a ranking, a firm must first have a lawyer recognized in The Best Lawyers in America©, which recognizes the top 5 percent of private practicing attorneys in the United States. Achieving a tiered ranking signifies a unique combination of quality law practice and breadth of legal expertise.
The 2020 rankings are based on the highest number of participating firms and client votes received on record.
Ranked firms, presented in three tiers, are recognized on a national and regional-based scale. Receiving a tier designation reflects the highest level of respect a firm can earn among other leading lawyers and clients from the same communities and the same practice areas.
About MKFM Law
Founded in 1949 by Attorney Joseph F. Mirabella, Sr., Mirabella, Kincaid, Frederick & Mirabella, LLC (MKFM Law) provides legal representation in a wide range of practice areas, including family law, employment law, sexual harassment, civil litigation, school law, criminal defense, estate planning, expungements, and guardianship. They are admitted to practice in all Illinois courts, as well as numerous United States District and Appellate Courts.
To learn more, visit https://www.mkfmlaw.com/ or call 630-665-7300 to schedule a consultation.