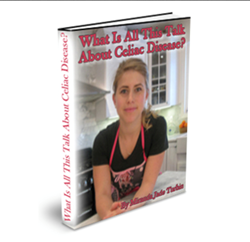 It was such an honor to be presented with this opportunity and to know that my work will be reaching so many more people.
Los Angeles, CA (PRWEB) September 11, 2017
Widely read gluten-free writer and reviewer, Miranda Jade, has announced the release of one of her gluten-free resource books into the Arabic language. The title, What Is All This Talk About Celiac Disease?, has been translated by the medical faculty at King Abdulaziz University as part of the institution's efforts to spread awareness about the gluten-free diet in Saudi Arabia and other Arabic countries.
Miranda Jade is the writer behind http://www.GlutenFreeHelp.info, originally launched by Miranda's mother, Tina Turbin, and voted the #2 .info website in the world out of over 6 million registered .info sites. One of Tina's books, Why Go Grain-Free, was recently translated by King Abdulaziz University, one of the top-ranking universities in Saudi Arabia. Following the release of Tina's book, Dr. Mohammad Ayman Abdulkarim Safi, an Associate Professor at King Abdulaziz, reached out to Miranda Jade to see if she would be willing to have her work translated as well.
"It was such an honor to be presented with this opportunity and to know that my work will be reaching so many more people," Miranda Jade said.
Dr. Safi believes that Miranda's book, which provides readers with the fundamentals on the subject of celiac disease, will be a helpful resource for educating Saudi Arabians about the gluten-free diet. According to Dr. Safi, a Ph.D. in Biochemistry and Immunology, data suggests that the prevalence of celiac disease in Saudi Arabia might be among the highest in the world.
Miranda Jade was diagnosed as a young adult with celiac disease after suffering from the condition throughout her childhood. After her recovery on the gluten-free diet, Miranda Jade became passionate about spreading the word about the celiac and gluten-free cause. Miranda Jade took Los Angeles by storm at the beginning of 2014 with the launch of her L.A.-based gluten-free bakery, Miranda Jade Bakeshop (http://www.MirandaJadeBakeshop.com). In addition to running her bakery, she continues to share gluten-free recipes, product and food reviews, and cooking expertise on her blog at http://www.GlutenFreeHelp.info.
To Book Miranda Jade Turbin for an Interview Or Speaking Engagement: Contact media (at) glutenfreehelp (dot) info
To Learn More About Miranda Jade Turbin, Visit: http://glutenfreehelp.info/about-tina-turbin/
To Purchase Any of the Gluten-free eBooks Visit: http://glutenfreehelp.info/gluten-free-and-celiac-ebooks-available-here/
About Miranda Jade Turbin, Official Partner of GlutenFreeHelp.info:
Miranda Jade Turbin was finally diagnosed with celiac disease after 18 years--her entire childhood--of repeated misdiagnoses, going from one doctor to the next and in and out of hospitals without any answers. Within two weeks of removing all gluten from her diet, Miranda Jade's life completely turned around. After her experience, she knew in her heart she had to help others as an advocate for celiac disease and gluten sensitivity. Miranda Jade teamed up with her mother Tina Turbin, also a diagnosed celiac and founder of the award-winning website GlutenFreeHelp.info, to this day handling this very busy website. Miranda Jade has gone on to write numerous eBooks, articles, reviews, and sought-after gluten-free grain-free recipes. Miranda Jade is bicoastal with gluten-free test kitchens on both coasts.
For more information or to schedule an interview, please call Rosie Newman at 1-888-701-6481 or pr (at) theprgroupeast-west (dot) com.