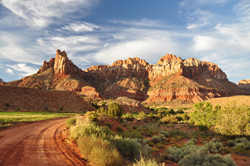 The Land Report designated the sale of the Trees Ranch as its 2013 Conservation Deal of the Year.
Denver, CO (PRWEB) April 30, 2014
Mirr Ranch Group is pleased to announce one of its sold ranches, Trees Ranch, was named the 2013 Conservation Deal of the Year by The Land Report in the publication's spring 2014 issue.
According to Editor of The Land Report, Eric O'Keefe, "The legacy of stewardship on Utah's Trees Ranch is matchless. Thanks to Ken Mirr, this holding was transitioned to a new steward whose commitment to this iconic landmark will ensure this tradition is continued for decades to come. For this reason, and many others, The Land Report designated the sale of the Trees Ranch as its 2013 Conservation Deal of the Year."
Trees Ranch is a 2,066-acre property surrounded by Zion National Park and the Canaan Wilderness Area in Springdale, Utah. Sold by Mirr Ranch Group of Denver, Colo. in August 2013, it was listed for $25 million. The previous owners are the heirs of Jim Trees, founder, former chairman and CEO of Fischer, Francis, Trees and Watts, Inc., and the heirs of Lionel Pincus, founder of Warburg Pincus, LLC.
"Jim and Lionel set out to turn Trees Ranch into a national park of their own. After they both passed, the Springdale community worried that the ranch might be bought and developed," explained listing ranch broker Ken Mirr.
Trees Ranch is home to significant conservation values. It is practically surrounded by the national park and wilderness, and the East Fork of the Virgin River and Shunes Creek are designated as "Wild and Scenic." The adjoining historic Parunuweep Canyon is designated as a "Natural Research Area" by the U.S. National Park Service as well. This is in addition to geological diversity, high quality terrestrial and aquatic communities, and significant historical and cultural areas.
Mirr invited several conservation organizations to tour the ranch, and was directly contacted by high profile buyers and their advisors throughout this process. In spring 2013, Ellen Hadley, an advisor for a Forbes 100 Billionaire, inquired and scheduled a tour. After visiting the property, Trees Ranch was quickly put under contract.
Mirr added, "All parties are pleased with this new chapter in the stewardship of the Trees Ranch. In addition, the surrounding community, as well as a variety of conservation groups, can rest assured that the new owner has the resources to continue Jim and Lionel's vision."
For more information on the new owner, please visit The Land Report article.
For media inquiries, arrange for an interview, or get an expert quote, please contact Mallory Boyce at (303) 623-4545 ext. 4. Photography available upon request.
About Mirr Ranch Group
Mirr Ranch Group offers marketing and buyer acquisition services for fine sporting properties and legacy ranches for sale throughout the American West. Brokers for the company are known for their expertise in sporting, agriculture, public lands, and conservation, in addition to their unsurpassed knowledge of ranch transactions.
For more information, contact:
Mirr Ranch Group
915 South Pearl Street
Denver, CO 80209
(303) 623-4545
http://www.MirrRanchGroup.com