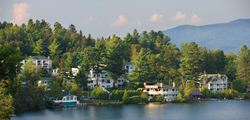 "We have a social responsibility to assist in flattening the curve and slow the spread of the virus." - Ed Weibrecht, owner, Mirror Lake Inn Resort and Spa
LAKE PLACID, N.Y. (PRWEB) March 18, 2020
After reviewing all the COVID-19 data and information available in recent days, and listening to federal and state leaders, as well as world and national health officials, the Mirror Lake Inn Resort and Spa in Lake Placid announced Monday that it will take swift and decisive action by temporarily suspending operations in an abundance of caution.
According to regional news reports, there are no cases of the coronavirus in the community or in Essex County where Lake Placid is located.
"While we have no confirmed cases of the COVID-19 virus in Lake Placid, we have made the difficult decision to temporarily close the hotel, effective Monday, March 16," said Ed Weibrecht, the owner of the Four Diamond resort. "As a family owned and operated business, the safety and well-being of both our staff and our guests remain our priority. Additionally, we feel strongly that we have a social responsibility to do our part to assist in 'flattening the curve' and to help slow the spread of the virus."
Weibrecht added that hotel ownership and management are working closely "with our loyal and hardworking staff to mitigate the impact that this decision will have on them and their families, and we look forward to re-opening to the public again as soon as is safely possible."
Guests who have reservations during the temporary closure will have the option of applying their deposit towards a future date, or to receive a full refund. Hotel staff will be communicating with them in the coming days.
In the past weeks, the Mirror Lake Inn, well known for its superior level of cleanliness, has further enhanced this aspect of its operation. A state-of-the-art Electrostatic Disinfecting Machine was recently purchased and employed throughout the entire property. The acquisition encapsulates surface areas with a disinfecting spray using positively and negatively charged ions.
Also, staff in all departments upgraded to hospital grade wipes to regularly disinfect surface areas including guest rooms, door handles, push bars, elevator buttons, light switches, treatment rooms, spa sanctuaries, salon and fitness center. These enhanced efforts have already become standard practice and will continue to be the "new norm" going forward.
In the meantime, Weibrecht's primary concern is to help reduce the trajectory of COVID-19 stating, "while temporarily closing the hotel will have an enormous negative financial impact on us, we feel it is the right thing to do for our staff, our guests, and for humanity as a whole. This is a very serious matter, and everyone needs to be responsible and do their part to mitigate the situation. We have urged all staff, and recommend to everyone, to follow CDC guidelines to prevent the spread of the infection.
"We have the best staff in the Adirondacks. When this is finally over, we look forward to providing our guests with the same authentic, Adirondack experience that we are known for. We wish you and your families the very best during this difficult and challenging time," concluded Weibrecht.