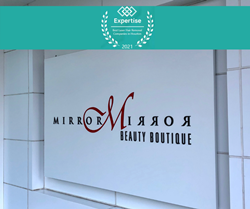 HOUSTON (PRWEB) January 28, 2021
Mirror Mirror Beauty Boutique has once again been listed among the top 20 laser hair removal companies in the Houston area by Expertise for the 2020 calendar year. For those considering laser hair removal, the experts are clear on how critical it is to work with a skilled professional. In the hands of Paul Vitenas Jr., MD, FACS, and his team at Mirror Mirror Beauty Boutique, you can be sure that your treatment will not only be effective but that your health and safety is their number one priority.
Expertise helps people find local experts quickly. By doing in-depth research and thoroughly reviewing businesses, Expertise selects the top 20 experts for each category, helping easily connect people with the right professionals. They narrow down the top businesses using the following criteria: reputation, qualification, experience, availability, and professionalism. The verification and rigorous review process that goes into each selection ensures that an individual is seeing the essential "best of the best" at what they are looking for.
Dr. Vitenas and his team are one of the most sought-after laser hair removal providers in Texas, so it comes as no surprise that they would be in Expertise's top 20. Many practices that offer this same procedure understand how difficult it is to perform and maintain, but Mirror Mirror Beauty Boutique of Houston, TX, has provided time and time again long-lasting results for their laser hair removal patients.
Laser hair removal is not a permanent process. It will take multiple sessions over a span of time to make sure the hair follicles do not rejuvenate. Clients may find that the hair that grows back is finer and softer than previous growth and can reduce the need for constant shaving or painful waxing and plucking. With a quality technician helping clients toward smooth, hassle-free skin, a few maintenance treatments may be necessary on an annual basis, but skin can be summer-ready with little effort once laser hair removal treatments have begun.
The Mirror Mirror Beauty Boutique offers multiple non-invasive skincare services for clients both male and female. From CoolSculpting to laser vein removal, you can be sure that your treatment will be handled by highly-skilled and well-trained professionals with a focus on your well-being. Mirror Mirror Beauty Boutique is interested in strong client connection for the long term. The care team, from the front desk to the treatment room, is happy to help you find a way to be more comfortable and confident in your skin.