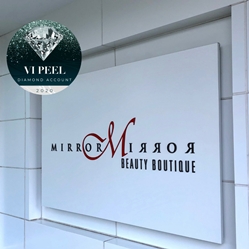 HOUSTON (PRWEB) March 18, 2021
Mirror Mirror Beauty Boutique, winner of the 2018 Best Houston Med Spa award, announced today that the boutique and their practice owner, Dr. Paul Vitenas, M.D., FACS, have been awarded Diamond Level status as a provider of VI Peel, the world's best-selling chemical peel. The status represents a significant achievement in both the number of peels administered and demonstrated expertise.
While there are many different chemical peels on the market, the majority of medical grade chemical peels require patients to endure weeks-long recovery periods. The VI Peel is considered a revolution in the Med Spa industry because patients can see results that are as dramatic as deep chemical peels without a prolonged healing process. Instead, patients who have the peel can return to their regular activities immediately and experience minimal to no pain. The peel uses a unique formula of 5 rejuvenating acids to reverse the early signs of aging, like wrinkles, hyperpigmentation and enlarged pores.
"We are extremely proud to reach Diamond Level status as a provider of the VI Peel." Remarked Dr. Vitenas. "Our entire team at Mirror Mirror is dedicated to bringing our patients the very best in skin care. Besides helping patients to look their best on the outside, treatments like the VI Peel can provide patients with an increase in the confidence of their skin looking great."
The VI Peel was developed by the Vitality Institute's founder, Dr. Abdala Khalil, and, after surpassing 10 million peels sold worldwide, has become the #1 best-selling chemical peel in the world. The treatment can be appropriate for many skin types, including darker skin tones, and is gentle enough to be used around the eye area as well as on the neck, chest and hands.
Dr. Paul Vitenas oversees his highly trained staff six days per week including Saturdays and evening options. Dr. Vitenas is recognized as one of Houston's best plastic surgeons and has achieved a long list of accolades including being named as one of Houston's Top Doctors in 2010, being selected as a Castle Connolly Top Doctor for 2021, and reaching Diamond Level status as a VI Peel provider.
To determine if a VI Peel is the right aesthetic treatment for you, visit http://www.mirrormirrorhouston.com/vi-peel to learn more and to schedule an appointment for a complimentary consultation at Mirror Mirror Beauty Boutique.
About Mirror Mirror Beauty Boutique
As Houston's premier medical spa, Mirror Mirror Beauty Boutique understands that aesthetic treatments can do more than rejuvenate the skin; they can restore the spirit. To accomplish this goal for every patient, Mirror Mirror is dedicated to offering the best of aesthetic services, treatments, and noninvasive procedures. We also provide an exclusive collection of the finest physician-grade skin care products.