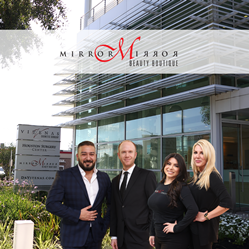 HOUSTON (PRWEB) December 10, 2020
People who go to Mirror Mirror Beauty Boutique in Houston absolutely love it, and now the medical spa has the Google reviews to prove it! The renowned medspa is proud to announce receiving its 200th review on Google. The cosmetic center has an overall rating of 4.8 stars, with the majority of reviewers leaving 5-stars.
In their reviews, clients have praised the natural results they've received from Botox injections, lip fillers and other non-surgical treatments.
"The best Botox experience," writes one 5-star reviewer named Claudia. "Emily has been on point on all my requests she is a true professional. (She doesn't use the cookie-cutter method like others do). I wanted a natural look and I'm very happy with my results."
Plenty of first-time patients have written in to share their thoughts on their experience at Mirror Mirror, as well.
"I had my first appointment with Emily, she was absolutely amazing," writes Ashelye, in another 5-star review. "Her energy and personality made me so comfortable and at ease. It was my first time getting Botox & lip fillers and she did amazing!!! I am loving my lips and feeling so much more confident in myself! I can't wait to go back when I need/want more!"
"I went here to get lip fillers for the first time with Marty and she is amazing," Ling writes in her five-star review. "I showed her pictures and she got it to the T! Highly recommend this place! Will be back for more..."
The spa has also earned praise for making clients feel comfortable and welcome.
In her five-star review, Nancy writes, "First time I got a lip filler and I loved the results! Emily did great work on my lips. I was a little nervous but she makes you feel comfortable, she is so chill. I felt so welcomed in this place."
Other clients praised the overall experience they had at the medical spa.
Gina writes, "I recommend Mirror Mirror with 5 stars because you will be in the best possible professional hands in Houston!! And definitely, you will walk out smiling!!"
Mirror Mirror Beauty Boutique operates under the supervision of Dr. Paul Vitenas, one of the top plastic surgeons in Houston, Texas. The staff is made up of licensed aestheticians and nurses who are committed to the work they do and to developing ongoing personal relationships with their clients.
The medical spa offers a wide range of minimally invasive, non-surgical cosmetic treatments. In addition to Botox and lip fillers, facial services include dermal fillers, chemical peels, laser skin resurfacing and microneedling. Mirror Mirror Beauty Boutique also offers minimally invasive body treatments such as CoolSculpting and laser hair removal.
The spa is open regular hours, six days a week, and is currently seeing patients in-person and through virtual consultations. To schedule a consultation, call 281-810-9083 or visit the med spa's website.