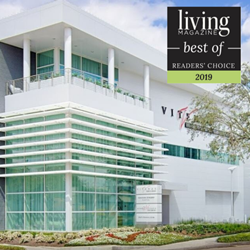 HOUSTON (PRWEB) January 08, 2020
Mirror Mirror Beauty Boutique was recently named the city's Best MedSpa in Living Magazine's 2019 Best of Memorial Readers' Choice Awards. Located adjacent to Vitenas Cosmetic Surgery, the office specializes in nonsurgical treatments and high-quality skincare. Being named Best MedSpa in Memorial reflects Mirror Mirror Beauty Boutique's commitment to the hottest noninvasive trends that can prolong or even eliminate the need for a more extensive cosmetic procedure.
Living Magazine is a weekly publication dedicated to the unique lifestyle of the Texas community, with a statewide audience of more than 1.4 million people. Serving a variety of different populations, each area-specific edition of Living Magazine is tailored to its residents and their local businesses. Their content is directly shaped by the interests and passions of the reader, creating an immersive consumer experience that is available today on all platforms.
One of the most notable features of Living Magazine is its annual Best of Readers' Choice Awards, with all winners nominated and chosen solely by the public. Categories include beauty and wellness, dining, entertainment, healthcare, home and garden, retail, and professional services. These awards highlight the most loved and trusted establishments in the community, acting as a guide for others seeking top-notch service in the area.
The 2019 Best of Memorial Readers' Choice winners represent a variety of both established businesses and new retailers. Dominating the Best MedSpa category, Mirror Mirror Beauty Boutique has been serving the Memorial-area for more than five years. Here the MedSpa experience is custom-tailored with the individual's sense of comfort, privacy and unique body goals at the forefront. All services and procedures at Mirror Mirror Beauty Boutique are overseen by a board-certified plastic surgeon, ensuring the utmost in safety.
Mirror Mirror Beauty Boutique's status as Readers' Choice 2019 Best Memorial MedSpa is the result of a talented group of cosmetic professionals and estheticians. "At Mirror Mirror, we have a strong commitment to the detailed protocols and discipline in our field," said Dr. Vitenas. "We recognize that patients need the comfort of having the very best in every aspect of their experience." By offering the hottest nonsurgical aesthetic treatments, such as CoolSculpting and Ultherapy, as well as stocking one of Houston's largest selections of prescription-quality skincare, Mirror Mirror Beauty Boutique has earned its reputation as the go-to place for women and men of every age.
ABOUT MIRROR MIRROR BEAUTY BOUTIQUE
Mirror Mirror Beauty Boutique was founded by Board-Certified Plastic Surgeon Dr. Paul Vitenas in 2014. Located on the first floor of the Vitenas Cosmetic Surgery building, Mirror Mirror Beauty Boutique offers a full range of noninvasive services and products. The airy, modern office creates a relaxing, rejuvenating escape only steps away from River Oaks and the Houston Galleria.
For additional information on the many noninvasive treatments and techniques available, contact Mirror Mirror Beauty Boutique at 281.810.9083. New patient consultations are always free. Located at 4208 Richmond Avenue, directly under Vitenas Cosmetic Surgery, Mirror Mirror Beauty Boutique has free, onsite parking for fast and easy appointments.