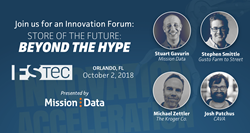 This is a critical time for restaurants to discover what's truly possible as the industry faces pressure to reduce operating costs while delivering a winning customer experience
ORLANDO, Fla. (PRWEB) September 26, 2018
Mission Data, developer of the OpSense platform bringing remote operations monitoring to restaurants and retail establishments, is proud to present a breakout session at this year's Foodservice Technology Conference (FSTEC). The conference takes place in Orlando, FL, from October 1-3, 2018.
The session, "Store of the Future: Beyond the Hype," will be a lively discussion on Tuesday, October 2, on the emerging technologies that are transforming foodservice. Alongside Mission Data CEO Stuart Gavurin, the panel will include Josh Patchus, Chief Data Scientist at CAVA; Stephen Smittle, Chief Operating Officer of Gusto Farm to Street; and Michael Zettler, Business & Partner Development, The Kroger Co.
Attendees will hear strategies for staying on top of technology trends that are truly creating value for food retailers and restaurants, such as the Internet of Things (IoT), Artificial Intelligence, voice-first interfaces, cashierless checkout, and data analytics. They will also hear which technologies are years away from implementation, such as machine vision and autonomous robotics.
For the second year in a row, Mission Data is participating as a Silver Sponsor at FSTEC. As the restaurant industry's most compelling tech conference focused solely on foodservice, this annual event gives attendees insight into security, software development and marketing while celebrating the newest and most innovative solutions in technology. For more information about FSTEC, visit fstec.com.
"Mission Data has decades of experience applying leading technology in practical ways for all types of companies, including quick-serve restaurants," said Gavurin. "This is a critical time for restaurants to discover what's truly possible as the industry faces pressure to reduce operating costs while delivering a winning customer experience. Our mission is to develop restaurant technology products that ensure quality control and maximize productivity for employees so they can focus on customers."
Visit Mission Data at Booth #520 at FSTEC 2018 at the Rosen Centre Hotel in Orlando, FL, from October 1-3, 2018.
About Mission Data
Founded in 1996, Mission Data works with companies of all sizes to manifest their visions into real digital solutions. Mission Data applies leading technology in practical ways to drive results, grow revenue, and make meaningful impacts on organizations and their users. Mission Data is located across the country with primary offices in Louisville, KY and Washington, DC. For more information, visit http://www.missiondata.com.