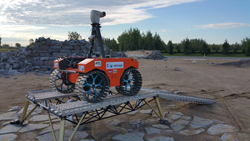 Mission Control Academy allows students to remotely drive a real rover prototype in a Mars-like environment.
Ottawa, Ontario (PRWEB) May 12, 2017
Mission Control Space Services, a young company in Ottawa focused on space technology development, is excited to announce Mission Control Academy. MCA challenges participants to design and operate a planetary exploration mission, culminating in an opportunity to remotely drive a real rover prototype in a Mars-like environment.
The mission scenario asks participants to assume realistic roles in a mission to Mars. Working together on a high-stakes space mission highlights important interdisciplinary communication and teamwork skills in an incomparable learning environment. Furthermore, teams have the opportunity to learn from professional scientists and engineers who have worked on NASA and Canadian Space Agency (CSA) missions.
From elementary school students, all the way to professionals in the space industry, Mission Control Academy has refined curriculum versions that can cater to any participant group. MCA offers a unique learning experience and showcases Canadian expertise in space exploration, including past demonstrations in the CSA Mars Yard.
This year, Mission Control Academy has four deployments all around the world, from Israel to Ireland to South Africa, but fortunately for Ottawa residents, it will also be held in our own backyard.
Mission Control Space Services, the company behind the program, is partnering up with Ashbury College to hold a week-long summer day camp July 10-14th, 2017 for students aged 11-16. The program is open for students all over the city, and includes interactive activities and workshops, culminating with a simulated planetary mission using rover prototype. Growing the number of Canadians equipped with STEM, coding and digital skills is a priority in the federal government's plan for strengthening the middle class, and that starts with getting students inspired and excited at a young age.
To participate in the program, please visit Ashbury College Summer Programs webpage: https://summer.ashbury.ca/products/mission-control-academy
To learn more about Mission Control Academy, visit http://www.missioncontrolspaceservices.com/projects/mission-control-academy
Program:
Monday: Introduction to Space Exploration
Tuesday: Planetary Science
Wednesday: Rover Systems
Thursday: Mission Planning
Friday: Field Trip – Canadian Space Agency