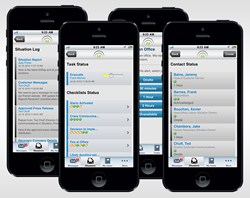 Mobile working is a game-changer. It's not just about creating the same features on a different platform.
Chicago, IL (PRWEB) August 12, 2013
MissionMode Solutions has released three new mobile applications that revolutionize how organizations respond to crises and operations issues. The apps put the power and versatility of MissionMode's emergency notification and incident management software on a tablet or smartphone. They extend the capabilities of the company's web-based applications.
Mobile applications are becoming more important as our society becomes increasingly mobile. Global shipments of tablets will eclipse laptop computers this year, according to research firm IDC. And eMarketer reports that in major world markets, smartphone adoption is higher than 50%.
During a crisis, responders are typically away from their desks. They can't use traditional crisis management software since they are not in front of a computer. MissionMode's new mobile apps enable responders and other team members to drive the incident response from the palm of their hands.
Situation Center Mobile is MissionMode's app for incident and crisis management. It enables teams to work together as if they are in the same room, no matter where they are located. Using tablets and smartphones, team members share information, collaborate, manage tasks, access plans and other important documents, send mass alerts, and more. The Situation Center Mobile app reduces the time, cost and risk of a response by streamlining communication and providing a centralized status of a response at a glance.
Notification Center Mobile is a mass emergency notification app that enables communication with any number of people within minutes. Using a tablet or smartphone, team members can quickly launch alerts with just a few taps on the screen. Customized templates ensure that the right message is sent to the right people. Alerts are sent by voice, email, SMS text message, fax and pager. The app also receives push notifications, even when voice and SMS channels are not operating.
These apps work in concert with EarShot, MissionMode's app for true 2-way communication. An EarShot message can contain unlimited text, photos, forms and GPS location. Documents and links can be pushed to devices from the web-based control console. No other app on the market offers these capabilities. Among EarShot's many uses is crowdsourcing eyewitness reports from staff members or students.
"MissionMode pioneered web-based crisis management and notification apps for enterprises. We have always led the way thanks largely to our 100% focus on real-world customer needs," says Malcolm Hafner, CEO of MissionMode. "Mobile working is a game-changer. It's not just about creating the same features on a different platform. Developed in conjunction with our customers, our mobile apps continue to deliver the market-leading yet practical capabilities for which we're renowned."
For more information on these apps, visit http://www.missionmode.com or email info(at)missionmode(dot)com.
About MissionMode
MissionMode Solutions, Inc. is a technology services provider dedicated to streamlining communications and facilitating team collaboration for crises and operational incidents. Their emergency notification, incident management and mobile communications applications are used by industry leaders across the globe. They reduce the time between knowing about a mission-critical issue and resolving it. MissionMode is a portfolio company of SilkRoad Equity LLC (http://www.silkroadequity.com), which specializes in public safety technologies, amongst other high growth sectors. For more information, visit http://www.missionmode.com.