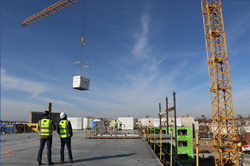 We're proud to be leading the modular movement in St. Louis and beyond. We see modular innovations as a way to save time and improve margins for our subcontractors, and reduce construction duration.
ST. LOUIS, Mo. (PRWEB) November 21, 2019
Those passing by 3763 Forest Park Ave. this week likely witnessed 27 rectangular structures seemingly fly through the air. These 60 square foot building units are prefabricated, or factory-built, by SurePods, and are the manufacturer's first installation in the St. Louis market. Although modular technology is not new to the industry, the building technique is seeing unprecedented interest thanks to its ability to speed up project timelines, while maintaining high-end aesthetics on projects such as the new Element by Westin hotel.
St. Louis' first Element by Westin will serve as a destination for those looking for the comforts of home, while visiting the burgeoning midtown area. Catering to extended-stay guests, the light and airy guest rooms are spacious and offer cozy furnishings bespoke of home. To ensure Element by Westin's Q3 opening in 2020, while significantly shortening the 153-room hospitality project's construction cycle, developer Midas Hospitality, LLC looked to modular construction methods.
"One of the main reasons we went in this direction was to address the challenge of complex logistics and tight timeframes," Chris Shinkle, Vice President – Development & Construction for Midas Hospitality, said. "We're proud to be leading the modular movement in St. Louis and beyond. We see modular innovations as a way to save time and improve margins for our subcontractors, and reduce construction duration."
Due to the benefits accelerated construction affords, prefabrication is on the rise in St. Louis and the rest of the United States. As Jennifer Abuzeid, Senior Director, Global Design Strategies for Marriott International, Inc., explained, modular technology is "a time-saver, a means of reducing the construction process. By using modular bathroom pods, you're not having to negotiate multiple trades, like plumbing, to get a bathroom done. The pods are done offsite in a factory, and once onsite, load like a dishwasher – you just have to hook it up to water and power sources."
Abuzeid added that by using modular bathroom pods, Marriott International shaves an average of three months off project schedules. Such time-savings are critical to getting heads in beds earlier.
Quality also heavily factored into Midas Hospitality's decision to go modular. Part of Marriott International's select service and extended-stay brands, Element by Westin needed to have the same spa-like feel that Marriott's guests have come to expect.
"Prefabrication can help deliver on superior quality," Bill Seery, SurePods Vice President of Business Development, said. "In the modern SurePods factory, automation drives dimensional accuracy and works to ensure quality control at every station. The result is a precision built product that adds maximum value to clients." In addition, building teams can fully customize modular bathrooms' trim, fixtures, tile, wall coverings, artwork and more, allowing the pods to adhere to stringent brand and finish guidelines.
SurePods, Midas Hospitality and Marriott International thank their subcontractor partners and the city of St. Louis for supporting cutting-edge, prefabricated construction on the Element by Westin project.
About SurePods™
SurePods™ is the leading provider of prefabricated bathrooms in North America. Using Building Information Modeling (BIM) and lean manufacturing technology, SurePods works with customers from design to installation to produce custom, ready-to-install bathroom pods for hotels and multi-unit residential projects. Replacing on-site bathroom construction, bathroom pods accelerate the construction timeline, improve overall quality and eliminate the punch list for the bathroom, which is the most problem-ridden part of a construction project. http://www.surepods.com
About Midas Hospitality, LLC
Founded in 2006, Midas Hospitality specializes in the development, management and investment of award-winning hotel properties across the U.S. The firm focuses on select-service and extended-stay experiences for global brands including Hilton, Marriott and IHG. Midas' headquarters are located at 1804 Borman Circle Dr. in Maryland Heights, MO. For more information, call (314) 692-0100 or visit http://www.midashospitality.com.