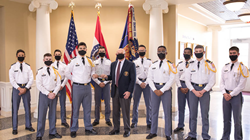 The MMA Fusileers earned top honors in 2019, 2020 and again in 2021.
MEXICO, Mo. (PRWEB) March 31, 2021
For the third consecutive year, Missouri Military Academy's (MMA) Fusileer Drill Team has won first place in the Association of Military Colleges & Schools of the United States (AMCSUS) national drill competition.
For the AMSCUS drill team competition, military schools from across the nation (such as Marine Military Academy, Randolph-Macon Academy, Army and Navy Academy, Riverside Military Academy, Fork Union Military Academy, Fishburne Military School, St. John's Northwestern, Valley Forge Academy and more) annually submit performance videos to be evaluated based on the formation commander's command voice and presence, drill sequence timing, the formation's ability to execute drill commands, the difficulty of commands, and the pacing, sequencing, military bearing, personal appearance and energy of cadets. The MMA Fusileers earned top honors in 2019, 2020 and again in 2021.
"I am proud of how the team has come together. They understand the drill team is very demanding, but they have persevered together with the goal of bringing home the national title this year," said MMA Fusileer Coach Rick Dehlinger '93. "I believe they have the dedication, talent and grit to make that happen."
Coach Dehlinger has been leading the Fusileer Drill Team since 2018. An MMA alumnus, he is a former cadet battalion commander and Color Guard member.
This win follows a series of first-place wins by the 2020-21 Fusileers, including the February 27 competition in Leavenworth, the February 6 Joplin competition and the January 26 Waynesville competition.
The AMCSUS 2021 Drill Competition champion members include:
Gorka-Aitor Yarte-Zertuche, sophomore from Lisbon, Portugal
Michael Henderson, junior from Greenbrier, Arkansas
Gabriel Iglesias Osorio, freshman from Antiguo Cuscatlan, El Salvador
Dhalil Belko, senior from Kigali, Rwanda
Michael Machary-Pagan, junior from Lake St. Louis, Missouri
Gage Blanton, sophomore from Columbia, Missouri
Sun Kit Tsui, senior from Zhaoqing, China
Damien Brown, senior from Altus, Oklahoma
Rene Garcia Garza, junior from Cadereyta Jimenez, N.L., Mexico
Bryce Bowen, senior from Clive, Iowa
Missouri Military Academy is an all-male, college preparatory military boarding school with a diverse domestic and international student population. The Academy's rigorous program empowers young men to reach their potential as future college graduates, citizens of character, and leaders in their communities. MMA's 360˚ Education fosters academic excellence, a healthy lifestyle and physical development, leadership and life skills, positive character development, and personal motivation.