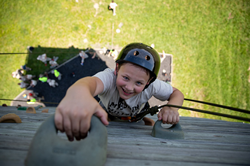 "Each camp is designed to harness a child's interest and use that as a confidence-building tool," MMA Camp Director and Commandant of Cadets Rick Grabowski, Colonel, USMC (ret) said. "Our goal is to make every day fun and memorable while fostering personal growth in each camper."
MEXICO, Mo. (PRWEB) January 29, 2021
Parents looking to provide opportunities for growth for their children this summer can find it at Missouri Military Academy (MMA) summer camps. Offering six different summer options this year, MMA summer camps give children the opportunity to step outside their comfort zone and overcome challenges through activities that develop a sense of pride in oneself while socializing with peers their own age.
This combination of fun, accomplishment and encouragement create the ultimate synergy for positive personal development in children. Campers develop resilience, social skills, teamwork, personal accountability and confidence while having fun.
"Each camp is designed to harness a child's interest and use that as a confidence-building tool," MMA Camp Director and Commandant of Cadets Rick Grabowski, Colonel, USMC (ret) said. "Our goal is to make every day fun and memorable while fostering personal growth in each camper."
Camps are held at MMA's 288-acre campus in Mexico, Missouri. The 132-year old boarding school has a state-of-the-art academic building, air-conditioned dorms, full gym, Olympic-sized swimming pool, fieldhouse with indoor track, horse stables, a paintball course and an outdoor challenge obstacle course with a high rope bridge, rappelling and rock climbing walls.
Each structured camp – regardless of focus – has the opportunity to take advantage of these facilities. Common daily activities include paintball, horseback riding, obstacle course, hiking, rappelling and rock climbing wall, rifle marksmanship, pugil sticks, swimming, high ropes, climbing wall and field trips.
MMA offers four summer camp options, plus a summer academic academy and jazz academy:
1. Confidence Camp – for boys ages 8-11 – offers three separate sessions between June 27-July 3, July 5-11 and July 12-18.
2. Leadership Camp – for boys ages 12-17 – is offered July 5-18.
3. Summer Academy – for boys and girls grades 7-12 – is offered June 20-July 16.
4. Equestrian Camp – for boys and girls ages 8 to 18 – offers two separate sessions between June 28-July 1 and July 5-8.
5. Sports Camp – for boys ages 8 to 14 – is offered July 5-9.
6. Summer Jazz Academy – for boys and girls ages 12 to 18 – is offered June 20-25.
During Summer Academy, two tracks – the middle school program (grades 7-8) and the high school program (grades 9-12) — are available. Each challenges participants academically and physically so they simultaneously hone academic abilities and learn good studying practices, plus build confidence by expanding their range of life experiences. Participants are issued laptops to support their educational experience at MMA.
"The Summer Academy provides personalized attention and small class sizes," said MMA Academic Dean Mike Harding. "Our focus on relational teaching helps each student find success, whether they need to make up coursework or receive enrichment. In addition our fun, challenging and varied extracurricular program, helps build an inner confidence that carries over into the classroom."
Campers are hosted in a safe, structured environment, well-supervised by experienced MMA staff and counselors, which include teachers and military leaders trained to impart values of leadership, good character, self-discipline and teamwork in every camper.
Missouri Military Academy is an all-male, college preparatory military boarding school with a diverse domestic and international student population. The Academy's rigorous program empowers young men to reach their potential as future college graduates, citizens of character, and leaders in their communities. MMA's 360˚ Education fosters academic excellence, a healthy lifestyle and physical development, leadership and life skills, positive character development, and personal motivation.