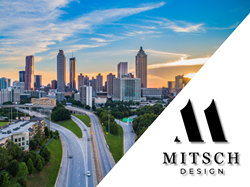 Mitsch Design announces the opening of their new Atlanta office with exceptional commercial architecture, project management, interior design, and furniture dealer services for the Southeastern United States.
ATLANTA (PRWEB) February 17, 2023
Mitsch Design, the renowned commercial interior design, architecture, and furniture dealer, has announced the opening of their new Atlanta office. With the new office, Mitsch Design is eager to provide exceptional services to their expanding customer base in the Southeast. The new office is located at 800 Battery Avenue Southeast, The Battery, Suite 100, Atlanta, Georgia 30339 inside of The Battery Atlanta, home to Truist Park and the home of the Atlanta Braves baseball team.
Mitsch Design is a full-service commercial interior design and architecture firm specializing in multi-family, senior living, and student housing properties from new builds to renovations. Mitsch Design has helped their commercial client's standout from their competitors by creating distinctive spaces that deliver memorable experiences and bring their client's brand to life. Mitsch Design has completed projects in more than 35 US States and is dedicated to enhancing the world through truly bespoke and innovative design.
"We are excited to be opening an Atlanta office, servicing our strong and growing customer base in the Southeast," said Lucas Rice, CEO of Mitsch Design and Atlanta native. "Having multiple offices will now give us the flexibility to balance our workload and ensure a timely and creative solution for our customers."
Mitsch Design's technology advancements is unparalleled in the industry and is a testament to their commitment to excellence in every aspect of their work. This unique service includes PREVU VR, a cutting-edge technology offering totally VR immersive experiences as well as 4D modeling with architecture and design fly-throughs. This trademarked technology allows clients to experience their project before it's built. This innovative tool brings designs to life and provides a highly realistic preview of the end result.
In addition, Mitsch Design provides exceptional project planning and management services, which ensures that every aspect of a project is completed on time and on budget. Their team of experts work diligently to coordinate every detail of the project, from start to finish, making the entire process seamless and stress-free for clients.
Mitsch Design's white glove FF&E service also includes furniture warehousing and installation services, which ensures that clients receive a complete turn-key solution. Their expert team coordinates every aspect of the furniture installation process, ensuring that everything is installed properly and on time. This provides clients with peace of mind, knowing that every detail has been taken care of and their space is ready for use.
With the addition of an Atlanta office, Mitsch Design is now equipped to better serve their clients' needs with enhanced flexibility and capacity. The new location is also expected to bring valuable opportunities for growth and creativity to the Mitsch Design team, according to Rice.
"An Atlanta office will give us the ability to tap into a creative resource right here in our town, and bring meaningful and lasting relationships to the Mitsch Design team," Rice said.
Mitsch Design's new Atlanta office is fully operational and ready to provide exceptional commercial interior design, architecture, and furniture distribution services to clients in the Southeast. For more information or to schedule a consultation please visit their website https://www.mitschdesign.com/start.