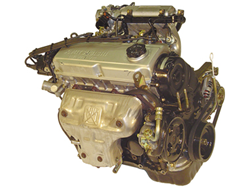 The Mirage, Lancer and FTO vehicles are now supported through our acquisition of the 1.8-liter motor blocks, and inventory will be available for the rest of this fiscal year
Austin, TX (PRWEB) June 29, 2015
The early 1990s partnership between the Chrysler company and Mitsubishi helped to produce several types of performance motors that are still in demand in the U.S. auto industry. The Preowned Engines company is now announcing is inclusion of Mitsubishi Mirage 1.8L engines for sale inside of its coupe I4 inventory now online at http://preownedengines.com/mirage-ls-1-8l-engine.
The units that consumers can now explore or purchase at the POE website were manufactured between the 1993 and 2003 years. The used condition versions are split between the 4G93 and 4G93T models that were used in vehicles like the Lancer in the American auto industry. Consumers ordering these editions can select between fuel injected or carbureted models.
"The Mirage, Lancer and FTO vehicles are now supported through our acquisition of the 1.8-liter motor blocks, and inventory will be available for the rest of this fiscal year," said a salesman at the Preowned Engines company.
The used 1.8L car engines that have been included in the 4-cylinder web inventory at the PreownedEngines.com website will be sold under a new freight policy. Auto mechanics, body shops and other commercial entities will be eligible for free freight on all orders shipped inside the U.S. in 2015.
"We are now offering larger discounts to consumers as well as more freight options for smaller repair shops that have few options to buy replacement motors online," said the salesman.
The Preowned Engines company is expected to include more I4 models for imported vehicles through its brand new sources of distribution partners. An announcement will be made later this year about the expanded import and JDM inventory available to buy.
About PreownedEngines.com
The PreownedEngines.com company has expanded its operations annually since the year 2013 in the used motors industry in the North American market. The company is known for supplying discount prices for Japanese and domestic inventory. The PreownedEngines.com company processes orders by phone and through an all-new e-commerce portal for commercial or consumer accounts.