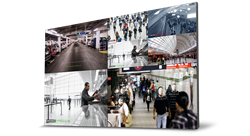 "In mission-critical situations, whether that's monitoring the flow of street or aviation traffic or operating intricate surveillance security details in command posts and law enforcement operations centers, the LM55P4 can be configured to match your needs." Josue Murillo, Product Manager
CYPRESS, Calif. (PRWEB) January 28, 2020
Mitsubishi Electric US, Inc. Visual and Imaging Systems Division announced today that it is now shipping the LM55P4 razor narrow bezel LCD monitors designed for utility, security, and other mission-critical control room applications. The division's team will also demo the LM55P4's capabilities at Distributech in San Antonio, TX, Jan. 28-30, 2020, and will live-Tweet during the event using the official Distributech hashtag #DTech2020.
"These razor-narrow bezel LCDs are specifically engineered for 24/7 operation to address the needs of demanding mission-critical environments showing dynamic content with great image quality and unparalleled lifetime performance," said Josue Murillo, Mitsubishi Electric US, Inc. Visual & Imaging Systems Division Product Manager.
The razor narrow bezel LM55P4 monitors are rugged LCD panels for heavy use in commercial applications. Users can build individual or tiled video wall configurations and create large displays for large visualization applications. The LM55P4 55" displays have an operational lifespan of up to 100,000 hours, delivering Full HD resolution and 700 cd/m2 of brightness. With a razor-narrow bezel as thin as 0.44 millimeters, the image-to-image gap between the monitors is virtually seamless when placed in an array. These monitors also offer flexible and easy mounting installations in landscape or portrait mode.
"The LM55P4 monitors are as versatile as the demanding content you create or display," Murillo said. "In mission-critical situations, whether that's monitoring the flow of street or aviation traffic or operating intricate surveillance security details in command posts and law enforcement operations centers, the LM55P4 can be configured to match your needs."
The LM55P4 razor-narrow bezel is designed for control rooms requiring a cost-effective visualization solution that delivers high quality, 24/7 performance with high reliability, and low cost of ownership. The LM55P4 is the perfect solution for video wall systems where high-resolution images need to be viewed across an entire video wall display. Its reverse scan feature reverses the direction of the image to play enlarged videos smoothly within multiple displays such as surveillance, process, or traffic monitoring operations.
A built-in Display Port™ 1.2a input terminal allows individual displays to be daisy-chained via a standard Display Port cable to create displays of up to 5 x 5 configuration with no external processing required. Additional versatility is offered by a built-in OPS slot and optional VC-LM1HD card; this supports HDCP long-distance transmission of up to 100m when using the CAT5e cable. The new LM55P4 video wall system joins an impressive line-up of control room display solutions, which includes a wide selection of high-end rear projection DLP™ cubes, direct view LED, UHD large-format LCD monitors, and both hardware and software-based screen controllers.
The LM55P3, extreme narrow bezel models will continue to be available in parallel with the new LM55P4, offering value-based entry models for projects with more restricted budgets.
*The content is true and accurate as of the time of publication.
*Information related to products and services included in this article may differ by country or region.
About Mitsubishi Electric US Holdings, Inc.
Mitsubishi Electric US Holdings, Inc. principal businesses include factory automation equipment, semiconductor devices, automotive electrical components, elevators and escalators, heating and cooling products, electric utility products, water treatment systems, rail transportation equipment, data walls, printers and large-scale video displays for stadiums and arenas. Mitsubishi Electric group companies have 38 locations throughout the United States, with approximately 4,000 employees.
Media Contact: Josue Murillo/Product Manager
Mitsubishi Electric US, Inc. Visual & Imaging Systems Division
Office: 714-252-7826
Email: josue.murillo@meus.mea.com