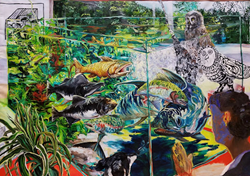 NEW YORK (PRWEB) January 29, 2020
Mitsui Fudosan America, Inc. (MFA) is pleased to announce an exhibition of paintings by Heidi Johnson in the Lobby Gallery at 527 Madison Avenue through April 10, 2020. Located at 54th Street and Madison Avenue, the show is open to the public 9 a.m to 5 p.m., Monday through Friday. 
 
The exhibition is part of 527 Madison's ongoing program that started in January 2014 showcasing noteworthy emerging and mid-career artists. Spearheaded by Keith Purcell, MFA vice president of asset management and leasing, the program is organized by Jay Grimm, MFA's art consultant for the property. To date, 527 Madison Avenue has hosted 17 artists.
The exhibition features five of Johnson's paintings, which depict a constructed world where flora and fauna have overwhelmed their environment, seemingly oblivious to what might be considered chaos. An abundance of birds, animals, insects and plants appear to thrive and delight on the detritus of human existence.
Johnson's work is inspired by the conceptual template of Dutch Still Life, where disparate species of flora and fauna meet on the same plane and time is compressed. Her paintings speak to our contemporary personal temporality and reflect a culture overrun by excess and saturation. 
The works play with the space between the unending highly constructed existence of the internet and the very real and immediate space we dwell in. Although obviously farcical, the paintings emit an anxiety with excess that is very familiar. 
 
Johnson was born in Providence, Rhode Island, and attended Tufts University and the School of the Museum of Fine Arts in Boston. She currently lives and works in the Mott Haven area of the Bronx in New York.
About 527 Madison Avenue
527 Madison Avenue, located at the corner of 54th Street in New York City, is a boutique commercial office building designed by celebrated architecture firm FXFOWLE. Completed in 1986, it is owned by an affiliate of Mitsui Fudosan America, Inc., which recently invested in significant upgrades including elevator modernization and a new MdeAS-designed lobby.
About Mitsui Fudosan America, Inc.
Mitsui Fudosan America, Inc. (MFA) is the U.S. subsidiary of Japan's largest real estate company, Mitsui Fudosan Co., Ltd., a publicly-traded company with approximately $60 billion of assets. MFA is responsible for Mitsui Fudosan's real estate investment and development activities in North America, and is headquartered in New York, with branch offices in Washington D.C., San Francisco, Los Angeles, and Honolulu. MFA has been active in the United States since the 1970s, and currently owns assets in the New York, Washington D.C., Boston, Dallas, Denver, Seattle, San Francisco, Los Angeles, and Honolulu metropolitan areas. MFA's U.S. portfolio includes 5.6 million square feet of office space, 4.7 million square feet of office space under development, 1,300 residential apartments, 5,000 additional rental units under development, 360 condominiums and townhomes under development, and 753 hotel rooms.