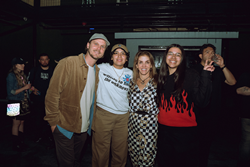 "The event was a great success. I'm proud of our team, the artists, and mitú for executing such a great event. We look forward to something even bigger and better next year" Barry Daffurn, President and Co-Founder
AUSTIN, Texas (PRWEB) March 17, 2023
Cinq Music and Rancho Humilde continue to solidify and expand their powerful partnership. This week, the two influential music companies teamed up for "Rumba," Cinq Music's official SXSW showcase, presented in collaboration with mitú. They left an incredible mark on the renowned festival with their curated selection of artists which celebrated the growing power and impact of Mexican music.
Together, Cinq Music and Rancho Humilde have supported and cultivated astounding growth in the Mexican music sector, advocating for its equal representation alongside major genres such as pop, rock, and R&B. Their showcase, which took place on March 16 at The Venue, featured remarkable performances by a number of talented artists represented by this groundbreaking partnership and quickly became one of the most talked-about events of SXSW 2023.
"The event was a great success. I'm proud of our team, the artists, and mitú for executing such a great event. We look forward to something even bigger and better next year." Barry Daffurn, President and Co-Founder
Despite the setbacks caused by the rain on Thursday night, a very innovative and stand-out event was achieved. The Venue vibrated with scintillating energy and excitement throughout the duration of the show, and everyone in attendance was treated to an unforgettable experience that displayed the gifted acts that are rising to dominate today's explosive Mexican music scene.
The showcase highlighted the forward momentum and positive transformation that Mexican music is currently experiencing by featuring an array of rising female Mexican sensations, including Ivonne Galáz, Janine, Tania Dominguez, and Poe Leos, who thrilled and impressed everyone in attendance, especially respected members of the media. These emerging artists have each contributed to shaping today's Latin music landscape, challenging traditional perceptions and revolutionizing the way Mexican music is perceived worldwide.
Ivonne Galáz, the first female artist to join Rancho Humilde's trendsetting roster, has been paving her own path as a powerful female figure in regional Mexican music. She demonstrated her divine natural talent to the audience. At the same time, another young star of Rancho Humilde, Janine, captivated the crowd with her unique style that fuses the traditional and the contemporary. Tania Domínguez, another of Rancho Humilde's outstanding acts, absolutely enchanted with her emotion-laden lyrics and intriguing hybrid urban-LoFi sound. Artistry Records' rising R&B sensation Poe Leos mesmerized with her contemporary R&B vibe defined by infectious melodies and catchy hooks.
The "Rumba" showcase proved to be a resounding success, enforcing the power and influence of Mexican music today. Thanks to the phenomenal talents of Rancho Humilde and Cinq Music, the genre continues to see expansion internationally and has become one of the most significant in not only the Latin market but within the global music industry as well.