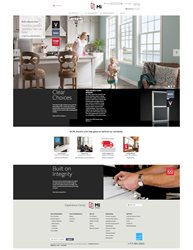 The new website is perfectly designed for a variety of users--from builders and remodelers to novice homeowners. It has a fresh, clean look and provides a user–friendly experience.--Tony Matter, MI Windows
Gratz, PA (PRWEB) September 07, 2016
MI Windows and Doors' recent re-branding campaign with a renewed focus on remodeling and replacement is highlighted by a new website at http://www.miwindows.com. The new website provides an enhanced user experience with access to updated collateral, technical data, and product information. This includes focusing on MI's longstanding track record in new construction as well as its high-quality offerings designed specifically for the remodeling and replacement markets.
MI's new site utilizes the latest location services to ensure that visitors get access to only those products available in their area. The site also features vibrant product and lifestyle photography to show how MI can make a huge difference in the home. It also showcases MI's broad selection of windows for new construction and replacement projects, and provides access to an array of literature and product icons that designate exactly what each window is best used for and its features.
The website includes navigation options that are more organized and direct for homeowners, professionals or product browsing. "We feel that the new website is perfectly designed for a wide variety of users – from window experts such as builders and remodelers to novice homeowners," said Tony Matter, MI's marketing director. "It has a fresh, clean look and provides a user–friendly experience for people across the entire window purchasing spectrum."
For more information about MI Windows and Doors and to experience the company's new look and feel, visit http://www.miwindows.com.
About MI Windows and Doors
Founded in 1947, MI Windows and Doors is one of the nation's largest suppliers of energy-efficient vinyl and aluminum windows and sliding glass doors. With plants in Pennsylvania, Texas, and Arizona, MI offers a broad spectrum of windows and doors backed by exemplary customer service. The company's commitment to safety, quality, and service are exemplified by the people that represent it nationwide. For more information, visit http://www.miwindows.com.