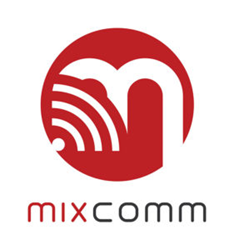 "With SUMMIT 3741, we are introducing several 'firsts' to the market and look forward to working with our customers to push the envelope for 5G mmWave." - Harish Krishnaswamy, MixComm Co-Founder and CTO
CHATHAM, N.J. (PRWEB) June 03, 2021
MixComm, the mmWave Antennas to Algorithms™ pioneer, today announced the latest addition to its portfolio of breakthrough Front End ICs for 5G mmWave. The SUMMIT 3741 integrates novel power amplifiers, low noise amplifiers, T/R switching, beamformers, calibration, gain control, beam table memory, temperature and power telemetry, and high-speed SPI control for a front-end module with optimal partitioning for 5G infrastructure. The device is suitable for Antenna-in-Package (AiP) implementations, as well as conventional chip-on-board integration through the use of interposers. SUMMIT 3741 also features enhanced and cutting-edge digital integration, uniquely enabled by the GLOBALFOUNDRIES® (GF®) 45RFSOI process, which has inherent advantages over other semiconductor technologies for mmWave applications.
MixComm SUMMIT 3741 product highlights:

Operation from 37 GHz to 41 GHz
Four-element dual-polarization TX/RX
Independent dual-polarization beam directions
Ultra-low TX- and RX-mode power consumption
High-power, high efficiency stacked SOI CMOS PAs
Low-loss T/R switch for TDD support
6-bit full-360o phase shifting and 0.5dB-step 16dB- range variable gain in each path
Fully calibrated for gain/phase matching Across ICs
On-chip temperature sensor
Gain control for temperature compensation
On-chip power sensor for each TX
Operates from 1V, 1.8V and 4V power supplies
100MHz SPI with 2048-entry on-chip beam table storage
6-/8-bit chip ID with multiple modes of programming
Flip-chip die with 75μm bump size and 200μm bump pitch
"5G will continue to push towards the higher mmWave frequency bands, bringing new challenges to conventional approaches," said Dr. Harish Krishnaswamy, MixComm Co-Founder and CTO, adding, "With SUMMIT 3741, we are introducing several 'firsts' to the market and look forward to working with our customers to push the envelope for 5G mmWave."
Like the SUMMIT 2629, which has been shipping to customers since 4Q 2020, the SUMMIT 3741 has been designed to address the critical challenges that currently constrain 5G mmWave success, by:
1) Extending range to decrease carrier cost and improve customer satisfaction,
2) Reducing thermal and electrical power consumption budgets, and
3) Optimizing antenna arrays to reduce module cost.
These benefits make the MixComm solutions ideal for 5G infrastructure ranging from gNodeB base stations and repeaters to customer premise equipment. The flexible architecture and ultra-low power operation will also enable 5G hotspots and other user equipment demanding long battery life and sleek form factors.
The Summit 3741 debut follows MixComm's recent announcements and successes including being the first mmWave company selected to join the 5G Open Innovation Lab and being named the Broadband Innovation of the Year by the 2020 Mobile Breakthrough Awards. MixComm also recently co-hosted the inaugural mmWave Summit with Microwave Journal and was selected by DARPA to develop next generation mmWave innovations for 5G and satellite communications.
"When we announced our first product in 2020, we highlighted that no other company has as much mmWave and RFSOI design and product experience as MixComm," said Mike Noonen, MixComm CEO. "This deep experience has resulted in many design wins for the Summit 2629 and now the latest breakthrough product in our portfolio, the Summit 3741."
The SUMMIT 3741 will be available for sample in early Q3, 2021. MixComm will showcase the Summit 3741 and its other products and technology at the upcoming International Microwave Symposium being held in Atlanta, GA, June 8-9. MixComm will exhibit in booths #1028 and #1221.
About MixComm Inc.
MixComm, based in Chatham, N.J., is the leading mmWave Antennas to Algorithms™ company developing transformative solutions for emerging wireless applications and markets. In 2020, MixComm introduced its first of a portfolio of millimeter wave products that deliver revolutionary levels of performance and integration for 5G infrastructure and Satellite Communication. The company's technology is based on breakthroughs from Dr. Krishnaswamy's CoSMIC lab at Columbia University and is funded by Kairos Ventures. For more information, visit http://www.mixcomm.com.
For more information, visit http://mixcomm.com/ or email info@mixcomm-inc.com.