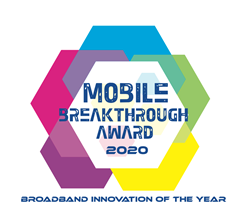 "The MixComm team is honored to have the 2020 Mobile Breakthrough Award recognize the SUMMIT 2629TM as the Broadband Innovation of the Year." - Mike Noonen, MixComm CEO
CHATHAM, N.J. (PRWEB) November 12, 2020
MixComm, the mmWave Antennas to Algorithms™ pioneer, has been selected as winner of the "Broadband Innovation of the Year" award in the fourth annual Mobile Breakthrough Awards program conducted by Mobile Breakthrough, a leading independent market intelligence organization that recognizes the top companies, technologies and products in the global wireless and mobile market today.
MixComm is the fabless semiconductor company developing transformative mmWave solutions for the 5G and satellite communications industries. The 2020 Mobile Breakthrough Award recognizes the breakthrough broadband innovation of MixComm's SUMMIT 2629TM, the first of a family of MixComm mmWave devices covering key 5G FR2 frequencies, ideal for 5G infrastructure.
The SUMMIT 2629TM is an RFSOI eight-channel RF beamforming IC for 28 GHz, 5G phased array antenna system designed specifically to address the challenges constraining 5G mmWave performance. This means addressing and providing the solution for extending link range, reducing power consumption and thermal dissipation, optimizing antenna array complexity, reducing overall RF front-end cost and decreasing infrastructure cost, and improving customer satisfaction.
"MixComm's unique architecture and use of RFSOI enables breakthrough mmWave performance that delivers on the potential of 5G," said Mike Noonen, CEO at MixComm. "The MixComm team is honored to have the 2020 Mobile Breakthrough Award recognize the SUMMIT 2629TM as the Broadband Innovation of the Year."
"We are pleased to be recognized alongside stalwarts of the wireless industry," said Harish Krishnaswamy, Co-Founder and CTO at MixComm. "With our years of experience in mmWave and RFSOI technology, our team is looking forward to pushing the envelope further and creating more breakthrough technologies to share with customers."
The mission of the annual Mobile Breakthrough Awards is to honor excellence and recognize the innovation, hard work and success in a range of mobile and wireless technology categories, including Cloud Computing, Mobile Management, Wireless and Broadband, Mobile Analytics, IoT and Smart City and many more. All nominations were evaluated by an independent panel of experts within the wireless industry.
"MixComm's front-end module plays a foundational role in solving problems and allowing widespread adoption of 5G technology," stated James Johnson, Managing Director, Mobile Breakthrough. "MixComm embodies the spirit of the Mobile Breakthrough Awards program, delivering true "breakthrough" technology that will help drive 5G forward. We are proud to recognize MixComm's innovative spirit and success with our 'Broadband Innovation of the Year' award in the 2020 Mobile Breakthrough Awards program."
Operating from 26.5 to 29.5 GHz, SUMMIT 2629TM integrates power amplifiers, low noise amplifiers, T/R switching, beamformers with large beam table memory, calibration, gain control, and temperature and power telemetry with a high-speed SPI interface for control. Combining MixComm's unique circuit architecture with GlobalFoundries' RFSOI process capabilities, the product's delivers industry-leading output power and efficiency, enabling many benefits compared to CMOS. SUMMIT 2629TM's breakthrough performance dramatically lowers the cost of 5G infrastructure deployment. The flexible architecture and ultra-low power operation will also enable 5G hotspots and other user equipment demanding long battery life and sleek form factors.
To learn more about MixComm's products, visit http://www.mixcomm.com.
####
About MixComm
MixComm, based in Chatham, N.J., is the leading mmWave Antennas to Algorithms™ company developing transformative solutions for emerging wireless applications and markets. MixComm was co-founded in 2017 by Dr. Harish Krishnaswamy of Columbia University's Engineering School and Frank Lane, formerly Senior Director at Flarion Technologies and Vice President of Technology for Qualcomm. The company's technology is based on breakthroughs from Dr. Krishnaswamy's CoSMIC lab at Columbia University and is funded by Kairos Ventures. For more information, visit http://www.mixcomm.com.
About Mobile Breakthrough
Part of Tech Breakthrough, a leading market intelligence and recognition platform for global technology innovation and leadership, the Mobile Breakthrough Awards program is devoted to honoring excellence in mobile and wireless technology companies, products and people. The Mobile Breakthrough Awards provide a platform for public recognition around the achievements of breakthrough mobile companies and products in categories including Cloud Computing, Mobile Management and Security, Wireless and Broadband, Mobile Analytics, IoT and Smart City technology, WLAN, WiFi and more. For more information visit MobileBreakthroughAwards.com.