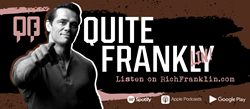 The podcast gives me the ability to connect with my audience through expert guests on many relevant issues, reaching far beyond the sport of mixed martial arts,
CINCINNATI (PRWEB) December 07, 2020
Mixed martial arts champion Rich Franklin has remained quite busy since officially retiring from the octagon five years ago. He's acted in films, co-founded an organic juice fusion cafe, hosted a series television show involving sports & travel and currently splits time between the United States and Singapore serving as Vice President of ONE Championship.
But what does an active guy/former athlete/businessman get most excited about? Good conversation.
Today, Franklin announces the official launch of his new podcast "Quite Franklin," where he invites guests from all walks of life to join him for honest conversations around an array of topics, personal stories and expertise. Episodes will feature a long-form conversational format, and post bi-weekly via audio eventually being available on video too.
"The podcast gives me the ability to connect with my audience through expert guests on many relevant issues, reaching far beyond the sport of mixed martial arts," explains Franklin, host and creator. "Audiences can expect deep dive discussions on a variety of topics and ideas, featuring content that aims to entertain, educate, and inspire."
The first four episodes are immediately available at http://www.RichFranklin.com , Spotify, Google Play and Apple Podcasts, and feature interviews with Wim Hof, Jessica Cox, Adam Walker and Elizabeth Smart as described below:
Wim Hof - Known as the "Ice Man," Wim Hof breaks down his "Wim Hof method" using breathing, visualization and ice as a means of purification and leaving your comfort zone. His ability to raise his own blood Ph, voluntarily alter specific hormone levels and control body temperature in extreme conditions has been medically recorded. Wim explains the implications on the immune system's ability to fight bacteria, viruses and maintain overall health…invaluable information given the global situation.
Jessica Cox - International speaker, certified pilot, scuba diver, black belt in Tae Kwon Do and casual piano player, Jessica Cox eliminated "I CAN'T" from her vocabulary years ago. But what may impress you more is watching Jessica, who happened to be born without arms, put in her contacts or open a can of soda.
Adam Walker - What happens when a toaster salesman watches a movie on a plane heading to a work conference? Obviously, he decides to swim the English Channel. But why stop there when you can swim the Ocean's 7…the seven toughest channels the ocean has to offer.
Elizabeth Smart - As one of the most notorious child abduction cases of the 21st century, Elizabeth Smart revisits her days in captivity only a few miles from her home where she was taken. Living through malnutrition, dehydration, rape and mental torture for almost 9 months, Elizabeth relied heavily on her Christian faith to survive.
Additional episodes to follow include Jack Garcia, Ramla Ali, Nas Daily, Fabien Cousteau, to name a few.
While Franklin is known to many as one of the most respected and praised athletes to ever compete in the sport of MMA, it's his journey from high school math teacher to three-time world champion and eventually UFC Hall of Famer that mesmerizes audiences to this day.
Growing up poor in the Midwest led a young Franklin to develop a blue-collar grit which led him to strive to better his circumstances. Though not the most naturally gifted athlete, few could match his tireless work ethic and devotion to health and nutrition. As he excelled in martial arts, it wasn't until 2002 that he left his pension and stable career as an educator behind to pursue his dreams of becoming a professional fighter.
In his illustrious 13-year career in the octagon, Franklin became the first man in UFC history to fight in four different countries. He headlined the organization's first ever live hit network cable show The Ultimate Fighter, and is recognized as a pioneer who advanced the sport of MMA globally. It is Franklin's articulate personality and fan friendly demeanor which made him the perfect ambassador for the sport and throughout his career, he has been the go-to interview subject for mainstream media, with appearances on major cable networks like CNBC and FOX.
Equally comfortable on a microphone as he is behind a camera, "Quite Franklin" is another forum for Franklin to engage in meaningful conversations and thought-provoking discussions. His inquisitive persona will engage guests on current affairs and social phenomena while also highlighting their stories and what makes them tick. He hopes listeners will join him on the podcast and come away entertained and informed.