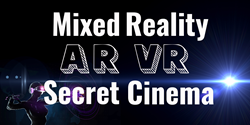 WILMINGTON, N.C. (PRWEB) November 07, 2018
The best-kept secret of the Film Festival is here and it is FREE: Thursday, November 8th and Friday, November 9th. The latest Augmented Reality and Virtual Reality experiences and technologies from around the globe are here, in downtown Wilmington at Cucalorus Festival!
Specially, curated, selected and on display for two days only; don't miss it!
Register now to reserve your time Thursday, or Friday:
https://mixedrealitysecretcinema.eventbrite.com
Special appearances, content, or technology from:
ILM xLab: Okay, Jedi. The Saber fun is back by popular demand, showing how AR turns any room into a Star Wars Jedi Training Center. "The force is strong with this one..."
AR VR Consultants, a stealth-mode Georgia-based company, is showing new location-based entertainment tech that is projected, mobile and revolutionary! Direct from Barcelona, Spain, this technology is making its US Festival debut. It is called a proprietary, mobile, all-in-one package, that is curated and designed for festivals, universities, and rraining, but we just call it amazing!
Mixed Reality: AR VR Secret Cinema in Collaboration with The 360 Film Festival and VRrOOM is premiering thirty international award winning 360° video films. This is the first US festival to share the International Award Winners that have just been announced and on display via the VRrOOm App.
Oculus Launch Pad's James Laudermilk brings his brand of VR Magic direct to you, in a sneak peek, first-time premiere, only at the fest! Check what the excitement is about before Oculus Launchpad winners are even selected.
Immersion 2.0 Residency: VR/360 Experiences filmed in collaboration between The School of Making Thinking, Cucalorus and The Immersion Residency - created, crafted and filmed in Wilmington, NC. Traditional Filmmakers from around the globe traveled to the North Carolina coast for the 2nd year in a row, to learn from each other and AR VR Consultants about all aspects of Immersive Media.
Carlo Corinaldesi and Carolina Sefair from Metro New Media bring VR direct from Columbia. These experiences are so immersive you can taste it!
Realization Pro will be showing VR Music Concert videos you can feel, no I mean, seriously feel!
Crosswater Digital the premier NY-state based immersive content company is debuting world-class VR/360 Experiences that will astound!
AR (Augmented Reality) you can use right now, with the phone in your hand! See examples of how international brands are using this new tech to make unforgettable impressions that delight and just work!
Also, if you really want to know more about this billion-dollar new industry everyone is talking about (AR&VR), join the VR pioneer, AR & VR Author/Forbes Writer, who also created Lion King and The Little Mermaid-while an Executive at Disney, for: Charlie Fink's Metaverse at 2:45 pm Friday only at Cucalorus Connect the info is here:(http://www.cucalorus.org/connect/charlie-finks-metaverse/)
Seating is limited for this intimate talk so sign up, now!