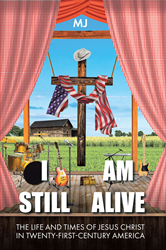 MEADVILLE, Pa. (PRWEB) August 09, 2022
"I Am Still Alive: The Life and Times of Jesus Christ in Twenty-First-Century America": an enjoyable and unique opportunity for reflection and spiritual rejuvenation. "I Am Still Alive: The Life and Times of Jesus Christ in Twenty-First-Century America" is the creation of published author MJ.
MJ shares, "Just imagine if the heavenly Father sent his Son, Jesus Christ, to walk and talk to us in the times we live in presently. Imagine if he was born in the greatest nation on earth, the United States of America. It is the place where citizens have the freedom to choose whatever they want or need. Yet many Americans choose not to want or need Jesus. What if Jesus in the flesh confronted the people of God's country? This story will bring him back to life as Son of God and Son of man once more. People will see him with their own eyes, hear him with their own ears, and some will even touch him with their own hands. Would unbelievers change their minds and hearts and know that he really does exist? Probably not, many did not believe two thousand years ago even though they saw, heard, and touched him then.
"The sands of time have separated his beloved from him. Some think that Jesus is just a myth, yet they believe that Bigfoot, the Abominable Snowman, and the Loch Ness Monster are factual. They say they have seen the creatures but have no genuine evidence they are real. Since the beginning of his story, history has proven that Jesus Christ is existent, and this story will confirm it once more.
"Jesus is as alive today as ever and so is his message and his mission; it will never change. Obviously, the world where Jesus began his ministry is completely different than the world today. So much has transformed over the past two millennia. The first century gave us the New Testament, the twenty-first century gave us new science, new technology, new laws, and even new morals. The way we live and the way we die is completely different than it was then. There are thousands of Christian churches and thousands of more churches of other religions that have erupted. Though the world has changed over time, Jesus has not. His teachings will remain the same yesterday, today, and forevermore.
"How would mankind treat him if he walked the earth once more? Would they treat him the same as they did then? Would his message and mission be altered to accommodate the times? Does evil continue to prevail on earth? So many unanswered questions. You can choose to watch or walk with him in this 'Greatest Story Ever Told Once More' and find answers to these and the previous questions. This story will reveal many unexpectant answers to a lifetime of questions.
"In your mind's eye, you will see Jesus born then grow from a child into adulthood. You will go on a journey with him while he attempts to unite unbelieving hearts and minds with his in today's modern society. You will see how he confronts foes and friends, and the many issues that have risen since he has risen. This can be done only if he were to return to us once again.
"This story is one of a thousand scenarios, it is inspired by one's imagination but has been sprinkled with words from the Holy Bible that are not. So you may need a Holy Bible by your side to help enhance some of the messages given, but it is not necessary. In any case, read on, and I think you will be surprised by the events that are about to unfold. You will experience truth combined with fantasy and enjoy a fusion of entertainment and enlightenment. We buckle up and carnival ride of life daily, but this is the big one, so pull the straps tight and prepare for a ride on the emotional rollercoaster. Hopefully, this story will be just as exciting!"
Published by Christian Faith Publishing, MJ's new book balances biblical truths with engaging fantasy to entice and entertain readers from the first page.
With thought-provoking exposition and relevant scripture, MJ brings readers a compelling opportunity to challenge and evaluate their spiritual connections.
Consumers can purchase "I Am Still Alive: The Life and Times of Jesus Christ in Twenty-First-Century America" at traditional brick & mortar bookstores, or online at Amazon.com, Apple iTunes store, or Barnes and Noble.
For additional information or inquiries about "I Am Still Alive: The Life and Times of Jesus Christ in Twenty-First-Century America," contact the Christian Faith Publishing media department at 866-554-0919.