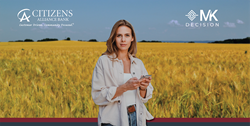 MK's Credit Card Origination System connects customers through our website, providing another dimension to our digital presence.
SAN DIEGO (PRWEB) May 25, 2021
MK Decision (MK), a California FinTech company offering digital account opening and loan origination, has partnered with Citizens Alliance Bank, a $934 million-asset community bank in Minnesota and Montana, to offer their customers a mobile-first onboarding experience for credit cards.
After being introduced by ICBA Bancard, the payments subsidiary of the Independent Community Bankers of America (ICBA), Citizens Alliance Bank implemented MK's Credit Card Origination System (CCOS). Through the platform, Citizens Alliance Bank will offer a more seamless application process for customers and reach a broader audience for their credit card program.
"The credit card application process can be overwhelming," Steven Condon, senior vice president and chief credit officer at Citizens Alliance Bank said. "MK's Credit Card Origination System connects customers through our website, providing another dimension to our digital presence. We want our customers to bank with us for the long term. This implementation allowed us to support our customers through life's biggest moments, whether they are moving away for college or growing their businesses to new communities."
By implementing CCOS, Citizens Alliance Bank now offers their customers an online Store to browse, shop, and apply for their preferred card. The applicant utilizes Checkout for an intuitive application process with electronic Signatures, automated Messaging on status updates, and digital Documents.
"Citizens Alliance Bank has set itself apart with an online shopping experience and seamless credit card application process," said MK Chief Executive Officer Har Rai Khalsa. "By adding a key component to the bank's website, Citizens Alliance Bank has demonstrated its dedication to innovating its customer experience. MK's platform focuses on building product interest and converting applicants digitally so bank employees can dedicate more resources to improving internal operations. Online financial services are no longer a consumer want but a need, one that Citizens Alliance Bank has committed to delivering."
About MK Decision
MK Decision's mission is to help community financial institutions thrive by receiving more deposits and more loans. With a commitment to strengthen local economies, MK's platform gives community banks and credit unions a competitive advantage through simple, beautiful customer experiences and streamlined banker workflows. The MK platform supports a variety of financial products including checking & savings accounts, credit cards, and consumer, commercial, small business, and indirect loans. So far, MK has helped over 250 community financial institutions acquire customers online. MK was founded in 2015 and is headquartered in San Diego, California.
About Citizens Alliance Bank
Citizens Alliance Bank was originally chartered as the German American Bank on November 15, 1902. The Bank operated as a Company Bank under the name of German American Bank until the year 1909 when it was incorporated and given a Minnesota state charter. In 1955, C.R. (Kelly) Forstrom and his wife Norma moved to Clara City from Willmar where they purchased a minority interest in the Bank. In 1982, Forstrom Bancorporation, Inc. was formed as a holding company to be used as a conduit for future Bank acquisitions. At that time, all the stock of Citizens Alliance Bank was transferred from C.R. Forstrom to the holding company. On December 31, 1990, Forstrom Bancorporation was sold to Kelly and Norma's four sons (Philip, Paul, Perry, and John).
Over the years Citizens Alliance Bank has acquired a number of locations in Minnesota and Montana.