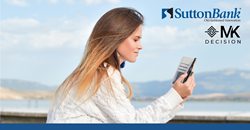 SAN DIEGO (PRWEB) January 14, 2021
MK Decision (MK) announced that Sutton Bank, a $1 billion-asset bank in Ohio has selected MK's Credit Card Origination System (CCOS) for an improved digital onboarding process for retail and business card holders.
Sutton Bank was introduced to MK's digital account opening and loan origination offering through its affiliation with the Independent Community Bankers of America (ICBA) ThinkTECH Accelerator program designed to spur collaborative community bank and FinTech partnerships.
For Sutton Bank, which has a history of mission-driven innovation, it was important to stay engaged with its customers throughout the pandemic by transitioning from a paper-intensive credit card origination process to a streamlined online shopping experience.
"With a focus on innovation Sutton Bank will continue perfecting its services to foster even stronger relationships with customers that last a lifetime," said Sutton Bank Chief Executive Officer Tony Gorrell. "We felt we had a strong credit card offering for our customer segment. We needed to get the message out there that Sutton Bank is in the credit card business and MK was the way to accomplish that goal and create awareness."
MK's customer experience provides a digital marketplace to inform consumers of product offerings and details and guides them through an intuitive mobile-first application. Once a customer has completed their application, MK's banker experience enables underwriters to process applications from a cloud-based application queue. MK streamlines the underwriting process by organizing customer data, automatically generating financial ratios, and eliminating manual data entry previously done by hand.
"We're honored to partner with Sutton Bank to serve the unique and diverse needs of their customers," said Har Rai Khalsa, Chief Executive Officer at MK. "Community banks like Sutton Bank partner with MK to deliver on our shared mission to strengthen local economies. On behalf of the entire team, MK looks forward to supporting Sutton Bank's digital transformation goal to create memorable customer experiences that enrich the communities they serve."
About MK Decision
MK Decision's mission is to help community financial institutions thrive by receiving more deposits and more loans. With a commitment to strengthen local economies, MK's platform gives community banks a competitive advantage through simple, beautiful customer experiences and streamlined banker workflows. The MK platform supports a variety of financial products including checking & savings accounts, credit cards, and consumer, commercial, small business, and indirect loans. So far, MK has helped over 200 community banks acquire customers online. MK was founded in 2015 and is headquartered in San Diego, California.
About Sutton Bank
Sutton Bank is a progressive Ohio-based, independent, community bank. Founded in 1878, Sutton Bank has grown into a top-performing community bank, as recognized by the Independent Community Bankers of America. They continually seek out opportunities to provide products and services that grow out of understanding their customer's needs, both individuals and businesses.