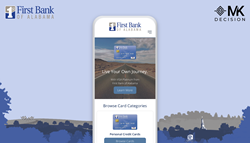 With MK's help, we are becoming a better institution for our customers through informative marketing pages, mobile-first applications, and faster decisions.
SAN DIEGO (PRWEB) March 04, 2021
MK Decision (MK), a FinTech provider of digital account opening and loan origination, partnered with First Bank of Alabama, a $719 million-asset community bank in Alabama, to transform their institution's credit card program from paper applications to digital customer onboarding.
After being introduced by ICBA Bancard, the payments subsidiary of the Independent Community Bankers of America (ICBA), First Bank of Alabama implemented MK's Credit Card Origination System (CCOS) to provide an online shopping experience for their credit card customers and streamlined underwriting processes for their internal teams.
"At First Bank of Alabama, we pride ourselves on the excellent service our empowered employees provide to the communities we serve," said bank CEO Chad Jones. "Keeping with our mission, I turned to my team to find the right vendor for our digital transformation. The ease of implementation speaks to MK's service, transparency, and diligent approach to project management. With MK's help, we are becoming a better institution for our customers through informative marketing pages, mobile-first applications, and faster decisions."
MK's CCOS closely aligns with First Bank of Alabama's mission to provide exceptional service by introducing CustomerAccount to keep applicants updated post-application. CustomerAccount offers a cloud-based platform for electronic signatures on agreements, document uploads, and automated status updates. Since the implementation, First Bank of Alabama experienced a 200 percent growth in application volume.
In addition to improving their online customer experience, First Bank of Alabama invested in their internal teams by introducing a loan origination system with real-time credit decisioning. With fraud on the rise, MK built its platform to ensure identity verification in every decision. MK's CreditConnect integrates with credit bureaus to generate automatic OFAC and MLA checks, significantly reducing First Bank of Alabama's underwriting time by 50 percent.
Motivated by its mission to strengthen local economies, MK empowers community financial institutions with the technology they need to serve their customers online and compete against megabanks. "First Bank of Alabama has its eyes on the future and its vision centered around its customers, making its partnership with MK Decision not only natural but strategic," said MK CEO Har Rai Khalsa. "As their digital strategy accelerates, MK is committed to continuously improving our platform to support their transformation. By collaborating with their Compliance and Marketing teams, we deployed a customer-first mentality to reduce the compliance burden while maximizing the customer experience."
In recognition of consumer demand for digital financial services, MK broadened its product suite to support both sides of the balance sheet with deposits and credit cards. To foster long-lasting relationships with future generations, First Bank of Alabama looks to MK as inspiration for their digital roadmap. Together the pair will deliver First Bank of Alabama's custom-centric culture through MK's cloud-based platform where marketing and decisioning converge.
About MK Decision
MK Decision's mission is to help community financial institutions thrive by receiving more deposits and more loans. With a commitment to strengthen local economies, MK's platform gives community banks a competitive advantage through simple, beautiful customer experiences and streamlined banker workflows. The MK platform supports a variety of financial products including checking & savings accounts, credit cards, and consumer, commercial, small business, and indirect loans. So far, MK has helped over 200 community banks acquire customers online. MK was founded in 2015 and is headquartered in San Diego, California.
About First Bank of Alabama
First Bank of Alabama has been operating for over 170 years in Talladega, Alabama and surrounding areas. Today we remain dedicated to the very same principals that we were founded on in 1848. We are continually improving our products and services in order to meet our customers' needs. When you bank with First Bank of Alabama, you can expect the same great service from friendly hometown faces that has always been a part of our banking tradition PLUS you get all of today's modern banking conveniences.