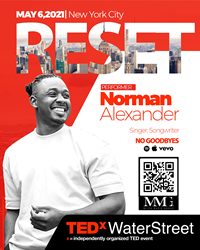 "We are in challenging times now hence the importance of this collaboration. It just makes perfect sense to me. Many of us had to say goodbye to loved ones during the pandemic this past year. In times of goodbye, there is music," says Mike Jean, CEO of MLife Music Group
NEW YORK (PRWEB) May 05, 2021
MLife Music Group, an emerging entertainment group of preeminent professionals engineered to provide a panoramic approach to an artist's career, today announced their collaboration with TEDxWaterStreet. MLife Music group's premier artist Norman Alexander, whose debut single "No Goodbyes" was well received by millions of viewers and listeners during the pandemic, will headline the inaugural invite-only event on Thursday, May 6, 2021, at Bryant Park Ballroom, 54 West 40th St., 2nd Floor, New York, NY 10018; from 4:00 pm – 9:00 pm. The event will be generously hosted by renowned actress, producer, and activist Monique Coleman. The 13-Speaker line-up includes Pras Michel– Entrepreneur & Grammy Award Winner of the Fugees, and Daniela Pierre-Bravo – TV Producer for MSNBC's "Morning Joe. Actor Mehcad Brooks, star of Mortal Kombat Movie will also be in attendance.
This collaboration between MLife Music Group and TEDxWaterStreet RESET 2021 promises to bring together inspiring individuals who will speak the language of possibility and foster a rediscovery of what the future holds for our shared humanity. This will be the first in-person TEDx event in New York City since the COVID- 19 pandemic, and the first LIVE performance for MLife's premier artist Norman Alexander's single "No Goodbye," mastered by 3-time Grammy Award winner Randy Merrill and produced by Brian Sheil.
"We are in challenging times now hence the importance of this collaboration. It just makes perfect sense to me. Many of us had to say goodbye to loved ones during the pandemic this past year. In times of goodbye, there is music," says Mike Jean, CEO of MLife Music Group.
Mike Jean at its helm, MLife Music Group includes three-time Grammy award winner Randy Merrill as mastering engineer, phenom Brian Sheil as a music producer, Joseph "Zeus" Theus as vice president of operations, and Leonardo Desailly Buissereth as vice president of A&R.
About MLife Music Group
MLife Music Group is an ensemble of international music professionals getting noticed for their panoramic approach to an artist's career. MLife works closely with icons of the music industry, including 17-time Grammy Award winner Humberto Gatica and Grammy Award winner, illustrious producer Jerry 'Wonda' Duplessis, to name two among many. For more information about MLife Music Group visit https://www.mliferecords.com/
About TEDx, x = independently organized event https://tedx.com
In the spirit of ideas worth spreading, TEDx is a program of local, self-organized events that bring people together to share a TED-like experience.
About TEDxWaterStreet
TEDxWaterStreet brings together like-minded individuals who are intentional about resetting as thinkers, leaders, friends, and community members to bring about a new perspective on how we can reset and press forward. TEDxWaterStreet is managed and by Lead Organizer & Licensee Jean Paul Laurent. For more information about TEDxWaterStreet, please visit https://tedxwaterstreet.com/ and follow us on Instagram @TedxWaterStreet #tedxwaterstreet #reset2021 #tedx.
MEDIA/PRESS: Contact: Amore Philip, Media Relations, M: 929.229.5512, E: pr@aoprllc.com