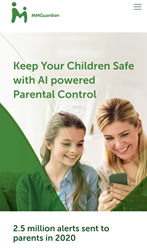 KEARNY, N.J. (PRWEB) December 21, 2020
Pervasive Group Inc. today announced that MMGuardian, the company's award winning parental control system powered by AI, now includes the ability for parents to submit reports of messages sent to their child by online predators, typically during the so called 'child grooming' phase. The reports are sent to CyberTipLine, who forward the information to the appropriate federal, state or local law enforcement agency for action.
The predator reporting function builds on the existing Predator Alert capability in MMGuardian, which alerts parents if the content of an SMS text or message sent using popular social media apps is indicative of contact from a predator. The new feature is supported for both iOS and Android devices.
During Beta testing of the new predator reporting function during November, over a dozen reports were submitted to CyberTipLine and onwards to law enforcement agencies. In addition, the reporting mechanism includes processes to avoid accidental or intentional submission of inaccurate reports to CyberTipLine. Feedback from the law enforcement has been very positive.
Of the new MMGuardian predator reporting function, Mike Lemon, a veteran cybercop of over 18 years experience and one of the first 50 cybercops in the nation to be trained by the United States Secret Service, said "I am very excited about the addition of the predator reporting function to the AI powered MMGuardian predator alert system. It will greatly reduce the complexity and time previously needed to report online predators, leading to much quicker law enforcement response and ultimately safer kids".
"MMGuardian has been staying laser focused on product innovation to help parents protect their children's digital lifestyle. Using AI and good old human intelligence to provide high quality reports of online child predators is the most recent proof of that." said James Zhou, CEO of Pervasive Group Inc.
The predator reporting function is now in general release and available to all parents who use MMGuardian to help protect their children.
About Pervasive Group Inc. Pervasive Group Inc, developers of MMGuardian, is a leading provider of parental control solutions. Its technologies and products help parents protect their children from the risks associated with the use of smartphones and an increasingly online world. For more information, please visit http://www.mmguardian.com
Trademark notice: MMGuardian and MMGuardian logo are registered trademarks of Pervasive Group Inc. All other trademarks referenced herein are the property of their respective owners.