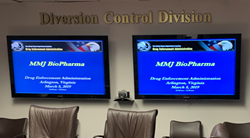 MMJ has received FDA Orphan Drug Approval for the clinical study of Huntington's Chorea using our proprietary soft gelatin dosage formulation containing a fixed ratio of THC and CBD.
ST. PETERSBURG, Fla. (PRWEB) September 30, 2020
In the last two weeks, General Nutrition Centers (GNC) and GW Pharmaceuticals have met with the White House to talk about the future of cannabidiol, or CBD substances. GW Pharmaceuticals, the manufacturer of Epidiolex and the first FDA approved CBD synthetic drug, was defending the FDA scientific approach to drug development. GNC, on the other side argued that CBD should be sold alongside other vitamin supplements. However, currently the FDA has been issuing several cease and desist orders against dietary supplements and vitamins companies making false medical claims about the safety and efficacy of CBD products that are in the marketplace being used by consumers. Alongside GW Pharmaceuticals and GNC, a dozen other companies have met with the White House in past weeks about the US Food and Drug Administration's impending enforcement policy on CBD products.
https://cannabislaw.report/dea-approves-mmj-international-holdings-thc-shipment-for-multiple-sclerosis-huntingtons-disease-drug-development/
MMJ International Holdings continues to separate itself from the pack by following and obeying current FDA and DEA regulations. At the same time creating major breakthroughs with the cooperation of government agencies including the Food and Drug Administration (FDA), Drug Enforcement Agency (DEA), U.S. Customs and Border Protection (CBP), Health Canada and the Center for Drug Evaluation and Research (CDER) in facilitating their company's mission. The list below describes the company's advancement in making consumer safe products following the governmental protocols with the goal of creating a FDA approved medicine:
1. MMJ Identified specific cannabis species for levels of THC and CBD
2. Completed all required testing on the raw plant and dried "buds" (dried, raw product) as mandated by the FDA Botanical Drug Development Guidance
3. Developed a specific extraction process to optimize the concentration of both THC or CBD
4. Analytically characterized the components in the extracts for other endocannabinoids and plant extracts
5. Established physical and chemical stability data for each extract, THC, CBD and other active ingredients
6. First to receive approval from DEA to ship the MMJ extracts from a country outside of the U.S. country into the U.S.
7. Contracted with a pharmaceutical company to develop soft gelatin capsule formulations to contain a fixed ratio of THC and CBD for phase 2 and 3 clinical studies
8. MMJ BioPharma Cultivation, Inc has successfully completed agreements with a Native American Indian sovereign nation for a DEA approved "grow" of cannabis plants for pharmaceutical, academic and research entities.
9. Received Orphan Drug Approval from the FDA for the clinical study of Huntington's Chorea using our proprietary soft gelatin dosage formulation containing a fixed ratio of THC and CBD.
MMJ firmly believes in the development of botanical natural pharmaceutical solutions for patients dealing with chronic illnesses by using genetic technology. Duane Boise, CEO of MMJ International Holdings, stated, "Unlike supplement CDB companies MMJ International Holding's science team is dedicated in making sure the safety of its medicine comes first because consumer welfare is number one".
Tim Moynahan, MMJ International Holdings chairman, stated. "By following the guidelines of both the FDA and DEA, MMJ International Holdings will be able to eventually offer FDA approved pharmaceutical products to help with the symptoms of debilitating diseases such as Multiple Sclerosis and Huntington's Disease.
MMJ International Holdings is focused on the health and safety of our future patients. Future patients will know our products are safe and effective because the products will be scientifically analyzed to ensure the consistency and purity within each prescribed dose.
MMJ International Holdings has chosen to follow strict FDA and DEA protocols in order to distinguish itself and its products from the untested, unscientifically proven and possibly dangerous CBD products currently on the market.
MMJ International Holdings is shaping the future of the pharmaceutical marijuana industry by working with all protective government agencies in order to place consumer safety first.