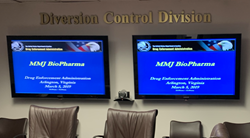 MMJ Biopharma Cultivation has applied for a DEA license to grow marijuana as a bulk manufacturer for cannabis research.
ST. PETERSBURG, Fla. (PRWEB) March 31, 2021
President Joe Biden's stance on marijuana legalization "has not changed," White House Press Secretary Jen Psaki said on Tuesday. Questioned by reporters in the White House briefing whether the president supports efforts by Democratic senators to end federal cannabis prohibition, Psaki said Biden "spoke about this on the campaign" and that he "believes in decriminalizing the use of marijuana, but his position has not changed" on federal legalization or changing the marijuana schedule 1 drug status. She appears to be indirectly saying that Biden wouldn't support the bills being currently drafted.
The US Drug Enforcement Administration has amended its regulations on March 23, 2021, to allow for additional licenses. The DEA has not yet indicated just how many licenses it will issue, but the physical inspections are currently underway to see who has complied with the new federal rule and will be considered for the much-coveted federal license.
Controls To Enhance the Cultivation of Marihuana for Research in the United States
https://www.federalregister.gov/documents/2020/03/23/2020-05796/controls-to-enhance-the-cultivation-of-marihuana-for-research-in-the-united-states#footnote-6-p16294
MMJ Biopharma Cultivation has applied for a DEA license to grow marijuana as a bulk manufacturer for cannabis research. The DEA has stated in their final rule, "An applicant that has manufactured marijuana without obtaining a DEA registration has violated Federal law, see 21 U.S.C. 841(a)…" Unlike state growers, MMJ has chosen to follow strict FDA and DEA protocols in order to distinguish itself and its products by following federal guidelines set forth by both the Food and Drug Administration (FDA) and the DEA.
Furthermore, MMJ BioPharma Cultivation Inc. has signed a supply agreement with MMJ International Holdings a pharmaceutical development company to supply plant product for clinical research for FDA clinical trials. The DEA considers a bonafide supply agreement necessary in order to become a federally licensed cultivator. MMJ Cultivation's goal is to be able to supply the federally approved research and development community with pharmaceutical grade cannabis to meet the unmet demand.
Additionally, Duane Boise CEO of MMJ International Holdings stated, "we have two Investigational New Drug applications (IND's) filed with the Food and Drug Administration (FDA) to prove public safety and efficacy by performing clinical trials in Multiple Sclerosis and Huntington's disease. MMJIH was awarded an orphan designation by the FDA for Huntington's disease."
Dr. Elio Mariani, the company's Executive VP in charge of drug development stated, "We firmly believe that our MMJ oral gel cap medication, containing unique pharmacological properties from the marijuana plant, will be FDA approved as a safe and effective drug."
As the Biden administration and the DEA move forward with federal regulations surrounding Schedule I substances such as marijuana, MMJ will continue to be a leader in the field of cultivation of pharmaceutical-grade marijuana and to continue the development and commercialization of proprietary cannabinoid-derived treatments that address the significant medical needs of patients. MMJ Biopharma is shaping the future of the pharmaceutical marijuana industry by working with all protective government agencies in order to place public health and safety first.
Contact:
Michael Sharpe
media@mmjih.com
203-231-8583