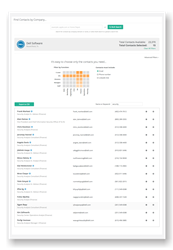 "Mmojo gives users access to the name, email, phone, LinkedIn, and titles of over 100 million US business contacts that Mmojo sources from industry leading providers," explained Mmojo Founder Hank Weghorst. "The user experience lets users quickly find and download exactly the contacts they need."
AUSTIN, Texas (PRWEB) May 11, 2019
Mmojo announced the availability of Email Finder, an easy-to-use Web App that enables users to quickly find valuable contacts from a high quality dataset of over 100 million US business contacts. Free and paid subscriptions are offered.
"Mmojo gives users access to the name, email, phone, LinkedIn, and titles of over 100 million US business contacts that Mmojo sources from industry leading providers," explained Mmojo Founder and Managing Partner Hank Weghorst. "The user experience is simple and streamlined to let users quickly find and download exactly the contacts they need."
Email Finder Overview
Finding business contacts with Email Finder begins by searching for and selecting a company by name or domain, and then using Filters to select from the available contacts for that company. Each time the filters are changed, the user is presented with an updated preview of the selected contacts. Users with paid subscriptions can then export the contacts they have selected. Users with free accounts can view up to 5 contacts.
Filters
"Email Finders filtering capability is unique both in its simplicity and capability to precisely select the contacts the user is looking for," explained Weghorst. "This capability along with more than 100 million business contacts and a simple, self-service, pay-only-for-what-you-need model is why our users as so excited about Email Finder."
Filters include the ability to select contacts by management level, function, title, and the specific type of contact data available (email, phone, or LinkedIn). Email Finders patent pending Contact Matrix allows the user to filter by selecting rows representing management levels, columns representing functions such as sales or finance, and even specific cells within the Contact Matrix. For example, clicking on the Contact Matrix cell at the intersection of the VP row and the Operations column filters for all Vice Presidents within the Operations department. Individual contacts may be selected or deselected from the contact preview prior to export.
Bulk Search
Users can find contacts for multiple companies using Email's Finders Bulk Search capability. With Bulk Search the user enters or uploads a list of companies, applies Filters, and can select a maximum number of contacts per company. Email Finder will present the total contacts found; the number of contacts by company, function and management level; and a preview of the selected contacts. Once filtering is finalized, users with paid accounts may export the contacts.
3 Plans
Mmojo offers three plans for Email Finder: Free, Pro and Premium. The Free membership is intended for quick searches to view a limited set of contacts. The Pro and Premium monthly paid subscriptions allow unlimited viewing and allow contacts to be exported to a CSV file at very competitive per contact rates. Both plans include credits for contact exports that rollover if not used. The Premium plan per contact fee is lower than the Pro plan and is intended for users with higher volume contact needs. When a user selects "Export", Email Finder displays the number of contacts to be exported, any contact credits applied and the remaining amount, if any, to be charged. Upon user approval, the export is performed, and the user is charged.
Resources

About Mmojo
Mmojo's mission is to use software technology to transform the way businesses work with data. We combine the highest quality data from industry leaders with our patent pending software technologies to make valuable data easily accessible and affordable to businesses of all sizes.