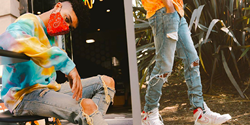 With Centric PLM I can make sure that balls aren't dropped and that we're staying on-track, on-schedule and on-time.
CAMPBELL, Calif. (PRWEB) January 12, 2021
MNML (pronounced 'minimal') the streetwear brand, has selected Centric Software®'s Product Lifecycle Management (PLM) solution for emerging brands, Centric SMB. Centric Software provides the most innovative enterprise solutions to fashion, retail, footwear, outdoor, luxury and consumer goods companies to achieve strategic and operational digital transformation goals.
Based in Los Angeles, California, MNML is a direct-to-consumer streetwear brand that was founded in 2016 by apparel industry veterans. MNML offers a variety of wardrobe staples at a fraction of the cost of their designer competition.
Sporting a lean, yet digitally native team, the company needed to put order to their product development to allow them to scale properly due to their rapid growth. They also wanted a way for top leadership to get a snapshot of projects in progress at any time.
Says Josh Fish, COO at Third Estate LLC, "We are a really small team for a company this size. Our development process is very collaborative, but we've been operating in a wild west sort of way with respect to organization. We have thousands of products in progress at any one time and needed a way to stay on top of it all."
He continues, "We wanted to make product design & development faster and more efficient and that's how we arrived at PLM. We met with a few other companies, but there were some things that Centric had that really stood out to me, including the calendar function and how visual the homepage is."
MNML is implementing Centric SMB, a cloud-based PLM solution tailored for small to medium businesses, with a fully remote deployment.
Technology is essential to MNML since they sell their product exclusively online. Says Fish, "From the beginning we saw that the future of retail is online and the direct communication and feedback from the customer allowed us to be faster and more affordable, so that's where we put all of our effort."
As with any business, the pandemic has had an effect. Says Fish, "We've all been working remotely since the beginning of March; I think the pandemic sped up getting PLM because we need transparency now more than ever since we're not sitting next to each other all day."
Fish explains, "With Centric PLM I can make sure that balls aren't dropped and that we're staying on-track, on-schedule and on-time. Releasing more on-trend products at a higher volume than we're currently doing will itself give us the ROI on the system."
Fish says that Centric will improve onboarding of new vendors, offer transparency into the business and allow them to ditch email and chat messaging by centralizing communication in one place that also houses the most up-to-date product information.
"I am proud that MNML has chosen to partner with us," says Chris Groves, President and CEO of Centric Software. "We know that the company will benefit from Centric SMB. I look forward to a long-term partnership with them and seeing them expand in the future."
MNML (http://www.mnml.la)
We believe in keeping things simple: progressive silhouettes and wardrobe staples sold at a fair price. Our team of industry veterans is constantly designing new silhouettes and experimenting with fabrics in our downtown Los Angeles studio to stay on the forefront of fashion. Style is always evolving, so are we. Traditional retailers mark up their products 5-8x. Our business model lets us sell the same quality directly to you for a fraction of the price.
We sell online only, and use no retailers. This way we can avoid the huge markups associated with traditional retail. We used years of industry experience to find the right factories that can create high-quality garments that meet our standards. We produce a limited quantity to avoid markdowns or overstocking, so we can make our prices fair from the beginning.