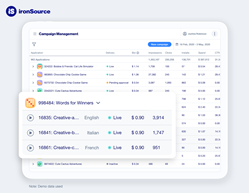 We now compare the creatives' performance more often and update the creative set as soon as we have the insights, making our campaigns much more up-to-date and successful.
TEL AVIV, Israel (PRWEB) May 18, 2020
Leading mobile monetization and marketing company ironSource announced today its new UA dashboard functionalities, allowing advertisers to see the individual performance of each creative asset within the campaign management page. This capability will enable advertisers to quickly analyse the effectiveness of their creatives per campaign rather than across a group of campaigns, and then make informed, data-driven decisions on which creative is the most relevant for which audience, based on that information.
"The new features are definitely an immense help for all of us in the user acquisition department," said Goncalo Alemao, UA Manager at Homa Games. "Being able to easily access each creatives' performance allows us to not only be more efficient but also to make decisions more quickly. We now compare the creatives' performance more often and update the creative set as soon as we have the insights, making our campaigns much more up-to-date and successful."
Currently, creative-related data either isn't available in the dashboards of many networks' UA platforms, or has to be downloaded and then analyzed separately. This makes it difficult for advertisers to see how their creatives are performing at the same time or in the same place as where they manage all other aspects of their campaigns, such as budget, bid, geo and ad unit type. This makes it harder to connect critical creative performance data to wider campaign optimization efforts. Additionally, when viewing creatives across all campaigns as a whole, the corresponding data is often averaged out, so an advertiser is unable to see the true impact of each creative. This makes it harder to adapt a creative in order to improve the IPM (Installs Per Mille - the number of app installs per thousand ad impressions) for a specific campaign. By making data on creative performance visible and accessible right inside the platform, ironSource empowers UA managers to understand their creative performance faster and more accurately, and then act on it correctly.
Additionally, the platform saves advertisers valuable time by allowing them to easily reuse a winning design for another campaign within the same title, in one simple click.
"ironSource has taken their platform to a new level with the latest features on creatives," explains a contact at SayGames. "As creative becomes a more important element of a UA campaign's success, access to creative-level data has become increasingly critical. This latest update will not only save us a huge amount of time in analyzing creative, but ultimately allow us to update and optimize creatives for better campaign performance at a much faster rate. Now we have everything we need for successful game growth in one place."
"When an advertiser is dealing with hundreds, if not thousands of campaigns on a daily basis, making accurate, data-driven decisions about what to cut, what to promote, or what to adjust, becomes mission critical," explains Erez Fruchtman, VP Product, Network at ironSource. "These latest additions to the platform are the first of many steps in our road map to providing our partners with actionable data that's readily available, so that they can quickly make smart, impactful decisions."
About ironSource
Working with the world's largest mobile game companies, ironSource is developing the industry's leading growth engine for games. With a robust mobile ad mediation platform, mobile ad network, and user acquisition platform, ironSource closes the monetization and marketing loop to empower game developers to turn their games into successful businesses. Founded in 2010, ironSource is a global company, with a local presence in Tel Aviv, London, New York, San Francisco, Beijing, Shenzhen, Bangalore, Seoul and Tokyo. Read more at http://www.ironsrc.com.