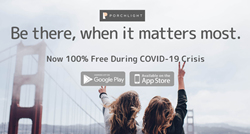 I love what Steve and his team at Porchlight are doing
AUSTIN, Texas and COLORADO SPRINGS, Colo. (PRWEB) March 25, 2020
Porchlight – Being There, a private social network that keeps family and close friends connected, is now 100% free to everyone in response to the global pandemic crisis of 2020. The latest version of the app, available on both iTunes and Google Play, no longer charges $9.99/month but is instead 100% free. It will remain free throughout the 2020 Global Pandemic Crisis related to COVID-19, at least through June 2020 and possibly beyond. Learn more about the app and download it for free here: Porchlight App.
The Porchlight App was originally created to address isolation and loneliness which can arise when family and close friends live far apart. The mandatory social distancing as a result of COVID-19 has created unprecedented isolation and loneliness for individuals, threatening to create a new social crisis. Porchlight is something we can all do, for ourselves and the people we love, to prevent the social crisis. Unlike traditional social media, Porchlight is quick and 100% private. It is designed for the busy modern life by offering a quick 5-second check-in and check-up, and the ability for one-on-one follow up on the things that matter with the people that matter. As a private network, Porchlight App does typically cost money ($9.99/month) in order to keep the platform Ad-free and 100% private. However, Porchlight's founder Steve Peterschmidt believes that helping as many people as possible get through this crisis is more important than short-term profits.
"Our mission at Porchlight is simple, help people stay connected. In this time of crisis, it is even more important to be connected to close friends and family. That is why we've decided to let everyone use the Porchlight private network for free throughout the crisis," said Steve Peterschmidt, founder and CEO of Support Tribe Inc, makers of Porchlight.
Connection is a human need, but one that needs some help in the modern world. As Stanford Behavior Scientist, Dr. BJ Fogg, put it "I love what Steve and his team at Porchlight are doing in the design of their app. They are helping people do something they already want to do--find a more meaningful and efficient way to connect in a busy world--which is one of my maxims for creating a new and lasting habit." Now, with COVID-19, the need to stay connected is a global need, and Porchlight is doing our best to help.
About the Porchlight App
The Porchlight App is a private social network and related applications for Apple and Android that helps keep family and close friends connected. Unlike other social media, Porchlight App lets you know how someone is doing, not what. Porchlight also reminds you to stay in touch, and lets you know when to reach out when someone in your tribe is in need. Porchlight is available for download in the iTunes and Google Play app stores.
About Support Tribe, Inc.
Support Tribe, Inc. was founded in 2018 to help people have meaningful connections to the important people and resources that create health and happiness. In addition to the Porchlight App for consumers, Support Tribe also offers apps and tools for the healthcare industry that create industry changing engagement between the health system and their members. Contact steve@porchlightapp.io about our B2B products.