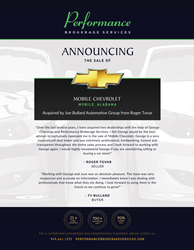 "Working with George and Juan was an absolute pleasure. The team was very responsive and accurate on information. I immediately knew I was dealing with professionals that know what they are doing. I look forward to using them in the future as we continue to grow!" Ty Bullard
IRVINE, Calif. (PRWEB) August 13, 2020
Performance Brokerage Services, a new car, Harley-Davidson and Powersports, and commercial truck dealership brokerage firm is pleased to announce the sale of Mobile Chevrolet in Mobile, Alabama from Roger Tovar to Joe Bullard Automotive Group.
Mobile Chevrolet was purchased in 2018 by Roger Tovar who also owns and operates multiple new car dealerships in Florida, Alabama, and New York. Following the sale, Roger Tovar commented, "Over the last several years, I have acquired two dealerships with the help of George Chaconas and Performance Brokerage Services. I felt George would be the best advisor to exclusively represent me in the sale of Mobile Chevrolet. George is a very experienced deal maker and was extremely professional, hardworking, honest, and transparent throughout the entire sales process and I look forward to working with George again. I would highly recommend George if you are considering selling or buying a car store!"
Over the last 5 years, Performance Brokerage Services has represented for sale over 200 automotive dealerships making it the highest volume automotive dealership brokerage firm in North America. George C. Chaconas, the exclusive advisor for this transaction and the Southeast Partner for Performance Brokerage Services commented, "It was an honor and privilege to represent Mr. Tovar on the sale of Mobile Chevrolet after exclusively representing him on other dealership acquisitions. It was extremely exciting helping Ty buy his first dealership for the Joe Bullard Automotive Group. We look forward to working with Ty in the near future to continue to help grow their family business. I sincerely appreciate and am incredibly grateful for the opportunity to be of service to both the buyer and seller in this transaction."
Since 1955, Joe Bullard Automotive Group has provided their customers first class service. Known for their people to people approach, the third-generation owned family business represents 8 franchises under 6 rooftops including Chevrolet, Ford, Lincoln, Acura, Jaguar, Land Rover, Cadillac, and Infiniti.
Ty Bullard had been working with George Chaconas and Juan Pardo of Performance Brokerage Services to find an automotive dealership to purchase when approached about the opportunity to acquire Mobile Chevrolet. The group was familiar with the store as it happened to be right in their backyard. They felt it was an ideal strategic fit. Ty Bullard commented, "Working with George and Juan was an absolute pleasure. The team was very responsive and accurate on information. I immediately knew I was dealing with professionals that know what they are doing. I look forward to using them in the future as we continue to grow!"
The dealership will remain at its current location at 2900 Government Boulevard in Mobile, Alabama 36606
The seller was represented by Stephen Dietrich of Holland and Knight, LLP.
The buyer was represented by Sean Dudley of Sean Dudley Law Firm.
About Performance Brokerage Services
Performance Brokerage Services, an auto dealership broker, specializes in professional intermediary services to buyers and sellers of automotive, commercial truck, Harley-Davidson and Powersports dealerships.
The company offers a different approach by providing complimentary dealership assessments, no upfront fees, no reimbursement of costs and is paid a success fee only. Performance Brokerage Services gets paid only after the client gets paid.
With nearly 30 years of dealership brokerage experience, the company utilizes an extensive network of industry related accountants, attorneys, hundreds of registered buyers and enjoys longstanding relationships with most of the auto manufacturers. The intermediaries at Performance Brokerage Services have been involved in well over 700 transactions. Pledging loyal and unwavering representation, confidentiality is vigilantly protected during the selling process and after the transaction closes.
With corporate offices in Irvine, California, 5 regional offices in Utah, Florida, Texas, Virginia and New Jersey, a dedicated Harley-Davidson and Powersports Division, and a dedicated Commercial Truck Division, Performance Brokerage Services provides its clients national exposure with local representation. For more information about the services offered by Performance Brokerage Services, visit https://performancebrokerageservices.com.