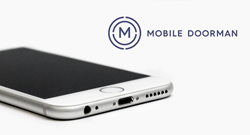 "I am truly excited to be joining the Mobile Doorman family," said Litowitz, founder and CEO of Magnetar Capital.
CHICAGO (PRWEB) August 01, 2018
Mobile Doorman, the industry-leading creator of custom-branded resident apps for apartment communities across the United States, today announced that it has closed on a $2 million Series A round from Chicago-based Reimagined Ventures, an investment arm of the Alec Litowitz family Office. Previous investors include Doug Hirsh, David Schwartz, Max Peek, KGC Capital, Terry Diamond and Bill Wolf.
Founded by Chicago-based Bob Matteson, Mobile Doorman specializes in the creation of white-labeled apps for the multifamily industry. The product focuses on empowering residents to live smarter and on helping property owners manage efficiently, improve retention and boost their bottom line. Since launching its first property in Chicago in 2014, Mobile Doorman has expanded its reach to 28 states and more than 50 markets throughout the United States.
"I am truly excited to be joining the Mobile Doorman family," said Litowitz, founder and CEO of Magnetar Capital. "Bob, Larry, Brian and team have done a tremendous job in building a business that leverages technology to foster a next-generation experience in apartment buildings. Their solutions allow both owners and tenants to transcend historical barriers, offering connectivity that enhances the full spectrum of lifestyle activities. I look forward to being an active participant in the growth of the company."
As part of the funding round, Jasin Alfaro, who focuses on real estate for the Litowitz family Office, will represent Litowitz's investment on Mobile Doorman's Board of Directors.
The new round of funding will be used for the brand's continued penetration into the U.S. multifamily market and further integration with smart home technology.
"More than ever, consumer expectation is the ability to manage their everyday needs from their phones - just picture where you go to handle your personal banking, travel and communication," said Mobile Doorman Founder and CEO Bob Matteson. "We are thrilled by the support from Alec and team. We could not have asked for a better partner to help us achieve our ambitious goals for 2018 and beyond."
To learn more about today's announcement, or what Mobile Doorman can do for your apartment community, visit http://www.MobileDoorman.com or email Info(at)MobileDoorman(dot)com to schedule a demo today.
About Mobile Doorman:
Mobile Doorman specializes in developing custom, white-label apps for apartment and condominium communities across the U.S. Our mission is to improve how residents interact with their properties with a convenient, user friendly tool that helps them live smarter while helping property owners manage better, improve retention, and boost their bottom line through nexgen technology. For more information, visit http://www.MobileDoorman.com.