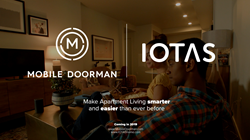 Our partnership with IOTAS helps ensure our clients are exceeding resident expectations
CHICAGO (PRWEB) November 13, 2018
Mobile Doorman, the industry innovator of custom-branded resident apps, today announced it is entering into an all-new strategic partnership with IOTAS, the leader of the smart home experience for today's apartment renter. Launching in 2019, the partnership brings together the proven white-label app solution with the smart home technologies apartment renters desire most.
Marrying the industry-leading proptech of Mobile Doorman and IOTAS, the integration will further create the all-in-one smart apartment management tool for communities and residents to enjoy. By enabling residents full control of an apartment's smart home technology via their community's white-label app, the partnership will make new strides in delivering a centralized and branded platform that continues to meet modern resident desires and expectations.
"Today's renter wants it all. They want convenience. They want smart technology. They want an exclusive lifestyle they can define," said Bob Matteson, CEO and Co-Founder of Mobile Doorman. "Our partnership with IOTAS helps ensure our clients are exceeding resident expectations by delivering the ability for residents to control the services, technology and amenities that define their living experience, and all from their mobile device."
Studies show that smart home technologies rank high on the amenities and services expected by today's renter. A recent Schlage and Wakefield Research survey of U.S. multifamily renters found that the vast majority of millennial respondents were willing to pay more for a smart apartment.
"IOTAS customers have seen their rental premiums increase by 4% - 10% in both Class A and Class B. This has been largely due to our focus on the resident experience and giving them a full suite of smart devices," said Sce Pike, CEO of IOTAS. "Our partnership with Mobile Doorman will create a best-in-class resident experience by tying together the best concierge service with the best smart apartment technology, all in one app. It'll truly be a forward leap."
While focused on increasing resident satisfaction with their living experience, the integration introduces new onsite operational efficiencies. Using their community app, residents will have a centralized channel for support and training questions relating to their smart home tech, allowing onsite staff to focus more of their time and effort on other customer service initiatives.
"Today, renters seemingly have an unending selection of new apartments featuring amenities with all the bells and whistles. To stay competitive, communities must understand what residents desire," said Doug Hirsh, president of Palomar Properties LLC, which currently utilizes Mobile Doorman and will implement IOTAS technologies at a number of its communities in 2019. "By partnering with Mobile Doorman and IOTAS, we're able to further separate ourselves from the competition with a state-of-the-art smart apartment experience for our residents."
Interested in learning more about today's announcement? Visit Mobile Doorman and IOTAS at this month's National Multifamily Housing Council OpTech Conference on November 15, 2018 in Orlando, Fla. Or discover what Mobile Doorman can do for your apartment community by visiting http://www.MobileDoorman.com, and visit http://www.iotashome.com to learn more about the future of the smart home experience.
About Mobile Doorman:
Mobile Doorman specializes in developing custom, white-label apps for apartment and condominium communities across the U.S. Our mission is to improve how residents interact with their properties with a convenient, user friendly tool that helps them live smarter while helping property owners manage better, improve retention, and boost their bottom line through nexgen technology. For more information, visit http://www.MobileDoorman.com.
About IOTAS:
IOTAS delivers a fully-connected smart home experience for apartment residents that integrates upwards of 20 smart devices on a single app, is voice controlled, and provides automated intelligence. This allows multi-family owners and operators to attract new tenants at premium rents, while lowering utility and management costs. The IOTAS platform can currently be found in multifamily housing communities across 40 national markets. For more information, visit https://www.iotashome.com/.