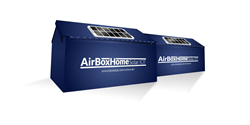 LEWES, Del. (PRWEB) March 27, 2020
Mobile One Courier Services has partnered with Drone Delivery Systems, maker of the AirBox Home, to provide secure, contactless delivery of products to their customers in the Mid-Atlantic region. Mobile Once Courier Services will also be an exclusive distributor of the AirBox home in Virginia, Maryland, North Carolina and the District of Columbia.
Mobile One Courier has long been an innovative company looking for better, more efficient delivery of products to its customers. In order to accomplish that goal, it was imperative to add a secure, smart mailbox that can prevent "porch pirates" from stealing valuable deliveries. The AirBox Home, through its app, will notify both the recipient and sender that the package has been received. It will also only allow the recipient to open the box with an electronic key preventing theft and damage from the environment.
According to Eric Brown, CEO of Mobile One Courier Services, "We needed AirBox Home to secure the delivery endpoint. We also want to offer drone delivery and the AirBox Home already supports that capability. We can make sure the customer gets the product and verify it was delivered whether by ground or air."
"With today's pandemic crisis, this becomes even more important as it enables contactless delivery to the recipient whether they are getting food or medication delivery. Businesses can even install them outside their doors to allow package pick up of ordered merchandise," according to Dr. Jeremy D. Tucker, DO, emergency physician and Co-Founder of Drone Delivery Systems. "This makes it much more convenient for employees and customers to maintain social distancing while the business can continue to serve the public."
Mobile One Courier Services will implement testing of delivery in April 2020 with hopes to implement across Virginia soon after. Eventually they plan to incorporate drone delivery to the AirBox Home after getting FAA approval to start testing drone delivery of packages in the 2nd or 3rd quarter of this year.
About Mobile One Courier Services
Mobile One Courier Services, is a same-day delivery provider of small packages and has been in operation since 1996 with offices in Virginia Beach, Richmond and Roanoke, Virginia. They service the Mid-Atlantic region with last-mile delivery in Virginia, Maryland, North Carolina and Washington, D.C. Its primary focus is working with healthcare, such as hospitals, clinics, labs and pharmacies as well as local businesses providing home delivery of packages and goods.
Media Contact:
Company Name: Mobile One Courier Services
Contact Person: Eric Brown
Email: service@mobileonecourier.com
Address: Virginia Beach, Virginia
Country: United States of America
Website: https://mobileonecourier.com/
About Drone Delivery Systems Corporation
Drone Delivery Systems, located in Lewes, Delaware creates innovative solutions for the future of autonomous secure package delivery to an end-point address using AirBox Technology. Inventor of the world's first smart, secure, drone capable, mailbox—AirBox Home.
Media Contact:
Company Name: Drone Delivery Systems Corporation
Contact Person: Dr. Jeremy Tucker
Email: jtucker@dronedeliverysystems.net
Address: Lewes, Delaware
Country: United States of America
Website: https://airboxtechnologies.com