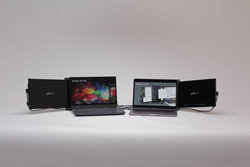 DUEX Plus and DUEX Lite are lightweight and portable, and make multitasking easier for professionals
BOSTON (PRWEB) March 09, 2021
Today Mobile Pixels launched DUEX Plus and DUEX Lite, portable laptop monitors that let users leverage dual screen productivity from anywhere. Both DUEX Plus and DUEX Lite are now available on Kickstarter for $194 USD and $189 USD respectively.
Both DUEX models attach to a laptop via a one-time magnetic adhesive and connect via USB. The display simply slides out from the magnetic backing and can be attached to either side of a laptop's screen. When used with a laptop that has USB type C, both DUEX models do not require any third party software to work; users simply plug in and use. In addition to laptops, DUEX Plus also works with Android phones and Nintendo Switch.
"DUEX Plus and DUEX Lite are lightweight and portable, and make multitasking easier for professionals," said co-founder Jack Yao. "They're perfect for creatives and digital nomads, teachers, office workers, developers and IT professionals, and even for use in warehouses. In fact, Amazon recently purchased our monitors for their warehouse workers"
DUEX Plus has a 13.3 inch display while DUEX Lite has a 12.5 inch display. The latest in a suite of monitors from MobilePixels, DUEX Plus and Lite are the lightest yet. In addition, they both feature a faster operating system, sharper display, and more color options than their predecessors. DUEX Plus and Lite also have a range of new features to further level up a work-from-home setup:

Presentation mode: 180° rotation
Kickstand mode: Both DUEX models easily attach to a kickstand (sold separately) to create a stable base and stand up on its own
Portrait mode: When not attached to the laptop, the screen stands up by itself in portrait orientation without a kickstand
Eye-care mode: Blue light emission will be reduced to a more comfortable level
DUEX Plus also has an auto rotation feature: it will auto rotate when users flip the display from left to right or right to left.
The DUEX Plus and DUEX Lite screens are energy efficient and specially designed to reduce battery drain from users' laptops. The maximum power consumption at full brightness is 4.5 watts, while the display has 1080p resolution, which makes for an extremely crisp and clear display.
"With the pandemic dragging on, it's clear that working from home is here to stay," said Yao. "Even if workplaces re-open, it's fairly certain that flexible working will be the new normal, so our new DUEX models provide an excellent solution for an easy double-monitor setup."
DUEX Plus and Lite are now available on Kickstarter for the price starting at $194 and $189 USD respectively. Media wishing to interview Mobile Pixels personnel should contact PR agent, Borjana Slipicevic at borjana@properperopaganda.net.
About Mobile Pixels
Mobile Pixels was founded in 2016 to reinvent productivity. Co-founder Jack Yao was working at a co-working space when he decided he needed a secondary monitor. He built a second laptop monitor from a broken laptop - and the MobilePixels DUEX was born.