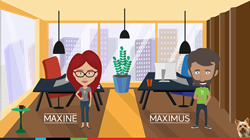 CENTENNIAL, Colo. (PRWEB) August 27, 2019
Since their inception, Mobile Solutions has set out to redefine how companies manage mobility. With their customers success always being the top priority, they continuously look to innovate and evolve. Meet their newest family members, the Brains! Mobile Solutions has implemented Robotic Process Automation (RPA) into MAX , their innovative mobility management platform. Their RPAs, Maxine and Maximus Brain, have been developed with the goal of optimizing their best resources, their people! By eliminating tedious and repetitive tasks, they are creating a culture of subject matter experts on all facets of mobility.
Robotic Process Automation (RPA) is technology that enables employees in a company to configure computer software or a "robot" to capture and interpret existing applications for processing a transaction, manipulating data, triggering responses and communicating with other digital systems. By leveraging this technology, Mobile Solutions is leading the industry in automation and efficiencies.
What this means for Mobile Solutions clients:

Faster SLAs
Automation
Repetitive tasks completed with accuracy
Each team at Mobile Solutions worked together to develop the aesthetic and characteristics of Maxine and Maximus. For many, these feel like new family members of their award-winning culture. Jim Johnson, Mobile Solutions Co-Founder and CEO , says, "We look forward to further enabling our teams to dedicate more time to our first-in-class customer service. Here's to the future of managing mobility…Faster!"
While Maxine and Maximus are the first, the potential for the Brains is limitless. The ability to leverage automated processes creates huge efficiencies for the Mobile Solutions team in nearly every area of their business.
Hyoun Park, CEO and Principal Analyst for Amalgam Insights , had this to say, "Amalgam Insights takes the perspective that these RPA capabilities could potentially serve as a differentiator for the Managed Mobility Services (MMS) market as the majority of its competitors servicing mid-market and enterprise clients are still largely dependent on human agents to handle all service orders. Over time, Amalgam Insights believes that Managed Mobility Services organizations continuing to rely on human labor for low-level service orders processing and execution will fall behind their automated peers from a service level perspective and be left less able to support strategic mobility decisions such as Internet of Things support, artificial intelligence, end-user security, and cloud access and compliance."
About Mobile Solutions
Mobile Solutions is an award-winning SaaS company that provides full life-cycle Managed Mobility Services including procurement, staging and kitting, real-time expense management, business analytics and reporting, dedicated account management and optimization, 24x7 US-based support, Unified Endpoint Management, and device reclamation services. We've made it simple for our clients to manage corporate-liable devices while also automating the management of mobile costs, assets, usage, plan changes, invoice processing, and reporting. With MAX, our cloud-based portal, we provide one, easy-to-use technology interface with the same user experience. Click here to check out our offerings!