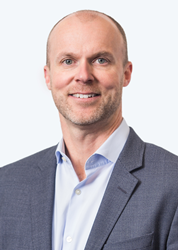 CENTENNIAL, Colo. (PRWEB) January 07, 2019
Steve is an accomplished global sales executive with expertise in highly complex telco software and managed services. Known for building high-producing sales and retention teams, he is a results-oriented, decisive and altruistic leader with an entrepreneurial ability to build and execute new, go-to-market strategies and explosive growth through key strategic partnerships. Steve has a proven history of achieving bold revenue targets and profitability, successfully managing P&L, and having the grit to endure and overcome challenges along the way. Steve's vast knowledge and expertise is derived from twenty years of experience in the telecommunications industry, including Tangoe, MOBI, Sprint, and Webbing. He is the current Treasurer of the Enterprise Technology Management Association's Board of Directors.
After another award-winning year, the successful migration of all clients to their next-gen mobility management platform, MAX, and strong fiscal performance, Mobile Solutions is poised to thrive in 2019. Jim Johnson, Co-Founder, and CEO said, "I am ecstatic to welcome Steve to our executive team. We look forward to Steve's strategic vision, sales development skills and expertise in cultivating and developing sales teams. Steve brings a well-balanced blend of MMS experience, sales leadership, and talent development skills. We were looking for a head of sales with broad talents and the specific background that aligns with our culture – Steve fits that."
"Mobile Solutions has all three ingredients for massive success in mobility management," said Steve. "You need a great company culture, an innovative product, and the ability to define an industry. I am convinced that Mobile Solutions is poised to truly transform the world of mobility management and I'm very excited to have the opportunity to join them."
About Mobile Solutions
Mobile Solutions is a SaaS company that provides full life-cycle Managed Mobility Services including procurement, staging and kitting, real-time expense management, business analytics and reporting, account optimization, 24x7 US-based support, Unified Endpoint Management, and device reclamation services. Our 24x7, in-house service desk and real-time account management make us more than an industry leader in mobility management. It makes us your partner. For more information, click here to check out our offerings!
mobilesolutions.net | LinkedIn | Twitter | Facebook | Instagram | Blog