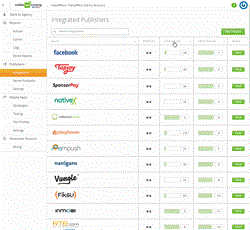 Seattle, WA (PRWEB) December 11, 2013
HasOffers, the industry's leader in attribution analytics, is excited to announce the launch of a new user experience for MobileAppTracking.com clients.
"We didn't just want to bring sexy back with this release, though I will say that it looks so much better," says CEO of HasOffers, Peter Hamilton, "but we're also calling the release 'Foundations' because it really is the building block for many new features on the path of innovation. You will notice upgrades in setting up a new mobile app, getting new partners up and running, and testing campaigns, and you'll find that the interface is more responsive and higher performing. However, the best features are still to come."
Key release features include:
> New User Interface – This new intuitive interface is designed to streamline productivity by improving the way users navigate and interact with MobileAppTracking. Users can access the data they need instantly with fewer clicks and with an instinctive flow saving users time and increasing productivity.
> Onboarding workflows - New users can easily get up and running with their account by adding and testing their mobile apps in a guided tutorial.
> Easily Create and Save Reports – This advancement in business intelligence allows users to easily create and save reports on the fly making data accessible when and where they need it. Users can easily create reports that are critical to their business without the need for development, giving them data at their fingertips for better decision making and decreased time to action.
> AngularJS framework - This thoroughly modern web application framework maximizes the products' extensibility, performance, and compatibility across browsers and devices.
> Performance Upgrades – MobileAppTracking has also made numerous performance upgrades that make the software even faster.
In addition to the updated look and feel of MobileAppTracking, we've enhanced our Integrated Publishers feature. Users will now be able to view a customized list of publishers, comparing each publisher's relative performance across a range of metrics. The new Integrated Publishers page will help MobileAppTracking customers identify new opportunities with publishers that have demonstrated performance in their KPIs.
Sign up for a free MobileAppTracking account to get the first look of the new changes, or better yet, join our live product tour on Wednesday, December 11th at 9 a.m. PST (before the release date) to see how simple it is to start measuring the value of your advertising partners.
About MobileAppTracking by HasOffers
MobileAppTracking.com (MAT) created by HasOffers, is one central, unbiased platform for mobile app marketers to attribute app installs, in-app engagement, and purchases back to marketing sources (such as social networks, publishers, and mobile ad networks). By implementing MAT, app developers never have to install another SDK to attribute conversion to new advertising partners. MAT is integrated with over 280 major ad networks and publishers along with Google, Facebook, and Twitter. It has been named the 63rd fastest growing company by Inc 500, backed by Accel Partners with Rich Wong, and has more than 120 employees across four offices worldwide, with headquarters in Seattle, WA. Learn more about the product at http://mobileapptracking.com or the company at http://www.hasoffers.com/about.