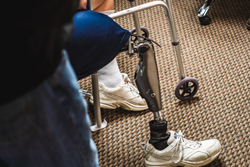 MURRAY, Utah (PRWEB) October 15, 2019
Mobility Prosthetics is Utah's first prosthetics company to offer in-home service. Not only that, this orthotics and prosthetics service is completely free of charge. They are very proud to be offering this new, only of its kind prosthetics Utah service in Utah, Idaho, Wyoming, and Nevada.
They've found that many of their customers would have come in much sooner, but their prosthetics Salt Lake City office was too far away or too difficult to get to due to discomfort or lack of mobility. They have always been a customer focused company, so they decided if it's too difficult, too far, or too painful for future or current customers to come to them, they will go to their customers, at no additional cost whatsoever.
Whether an amputee or not, or in need of an arm, leg, or other prosthetic limb, there now is a champion in the corner whose mission is to make others as comfortable and mobile as they want to be. Please visit https://www.mobilityprosthetics.com if there are any questions or for more information. The use of advanced digital scanning, computer aided design, 3D printing, and now in-home service and care put Mobility Prosthetics a level above all other prosthetic companies in Utah.