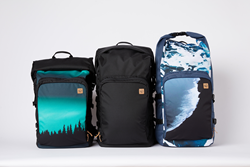 What makes The Mobius stand apart from all other backpacks is the innovative use of BLOOM® foam, which is sustainably sourced with algae biomass taken from lakes and ponds and then used for the backpack's padding.
VANCOUVER, British Columbia (PRWEB) August 22, 2018
After years of development, tentree launched the Mobius, the most environmentally-progressive backpack on the planet, on the crowdfunding website Kickstarter– breaking its campaign goal within one hour after its introduction.
Backers have invested more than $100,000 so far in the Mobius, a multi-functional, durable backpack made with nearly 100 percent 'upcycled' materials that's also the first backpack ever to feature BLOOM® foam—the world's first plant-based performance-driven foam formulated with algae.
The tentree company, which created the Mobius, will plant 10 trees for each backpack sold – with a goal to plant over 50,000 trees through the crowdfunding campaign.
Joey Pringle, designer of the Mobius and thought leader in sustainable design, says the tentree team set out to create the first backpack ever designed with the planet in mind.
"My job is a platform for me to find transparency in the design world and tentree provides me with the opportunity to make global change through product design," Pringle said. "I see it as my duty to make the most sustainable product the world has ever seen and inspire change in bigger brands."

The Mobius backpack was designed using the process of upcycling, which is the reuse of discarded objects or materials in a way that creates a product of higher quality or value.
The bag is designed and lined with REPREVE®, a fabric made from 100-percent recycled plastic water bottles – with each bag representing 31 plastic bottles that would have otherwise cluttered the landfill. The trims that complete the bag, such as the webbing, clips and buckles, are all made from recycled material by reusing the plastic waste created at the factory level during regular production.
"What makes The Mobius stand apart from all other backpacks is the innovative use of BLOOM® foam, which is sustainably sourced with algae biomass taken from lakes and ponds and then used for the backpack's padding.
"This foam is not only better for the environment, but also offers a variety of strong performance benefits that include prolonged resilience, reduced weight and hypoallergenic properties," Pringle said.
tentree is on a mission to become the most environmentally progressive brand on the planet.
"At tentree we are always working to push the bounds of what is possible with sustainable product. The Mobius bag sets a new standard for environmentally progressive accessories," says CEO Derrick Emsley.
The Mobius was also designed with active people in mind, offering multiple features to make this backpack the perfect bag for any occasion. Highlights include:
Size – roll top opening allows the bag to be packed the way you want it, whether that's small and compact for daily use or fully expanded to reach the 35-liter capacity.
Functionality – roll top opening is good for packing, but when you're in a time crunch, this bag features multiple zippers in the back for easy access to its contents.
Protective laptop sleeve– with the ability to access your laptop in two ways, it makes travelling smooth and painless.
Discreet bottle holder – fits bottles sized up to Triple-X.
Organization – enclosed front pocket, compartmentalized sleeves and a small side zipper pocket for functional and practical organization.
Extra support – back and shoulder straps are padded to create optimum comfort, while a buckle strap across the chest adds additional carrying support.
Along with the bag, tentree is also offering upcycled travel cubes that fit perfectly within the main compartment of the Mobius.
Visit the Mobius Kickstarter Campaign Page now to pre-order, meet the designer, and learn more about how the backpack and travel cubes are pushing all boundaries when it comes to sustainability.
About tentree
tentree is an environmentally progressive lifestyle apparel company, focused on their motto - "protect your world." For every item purchased, tentree plants 10 trees in countries across the globe. Each product comes with a unique code that allows the customer to discover their positive impact. tentree is focused on more than just planting trees; it wants to help change lives. Not only does reforestation revitalize dry arid soil and provide a substantial oxygen supply, but it directly benefits local people living in the area by providing wood for fuel, food, and fodder for livestock, as well as permanent and seasonal employment. tentree has planted over 20 million trees to date and is aiming to plant 1 billion trees by 2030. For more information, visit http://www.tentree.com.