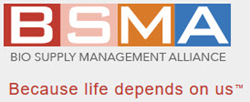 Our forum sponsorship and participation on the BSMA supply chain and cold-chain panel supports our commitment to help life science companies explore cost-reduction strategies," said President Gary Hutchinson
Houston, Tex. (PRWEB) October 18, 2016
Modality Solutions, LLC, a privately-held company that delivers integrated cold chain management solutions for life science and food industries, is pleased to announce its bronze sponsorship and panel participation at the 9th Annual Bio Supply Management Alliance (BSMA) Forum titled "Preparing the Biotech Supply Chain for 2025, The Onward March." The all-day event will be held Thursday, October 20 at the Crowne Plaza Foster City-San Mateo in Forest City, California.
Modality Solutions' President Gary Hutchinson will be a panelist on the Track 1: Clinical Supply Chain & Cold Chain topic -- "Cold Chain Realities: Keeping Executives Awake at Night." Hutchinson joins panelists Doug Wettegren, Global Key Account Manager, Envirotainer; Alex Guillen, Global Cold Chain Director, Fisher Clinical Services; Jim Peyton, Associate Director, Supply Chain, Gilead Science; Wahiba Hall, Leader, Global Transportation and Cold Chain, Pharmacy Group, Bayer Health; and moderator Vishal Singal, Principal Real World Insights, QuintilesIMS.
During the session, the industry stakeholders will present solutions for the successful deployment of the emerging temperature-controlled logistics and cold chain technology. Assessments will be made of packaging, engineering standards, business processes, information systems and monitoring mechanisms. Attendees will take away a blueprint for the global manufacturing, logistics and distribution of temperature-sensitive materials and finished products.
"Our forum sponsorship and participation on the BSMA supply chain and cold-chain panel supports our continued commitment to help life science companies explore cost-reduction strategies, understand changing industry standards, and initiate risk management processes to ensure compliance, quality and product integrity," said Gary Hutchinson.
Conference organizer, Bio Supply Management Alliance (BSMA), was born out of a need to create a worldwide community of operations and supply chain management leaders and professionals in the biotech, biopharma, and biomedical device industries. Based in the San Francisco Bay Area, home to more than 400 bio firms, the alliance provides a forum for collaboration, learning and best practice sharing of practitioners, executives and thought leaders in these uniquely demanding industries. This year's conference is incorporating a town hall environment to promote shared learning and collaboration.
For more information on the BSMA Forum, go to http://biosupplyalliance.com
To learn more about Modality Solutions, visit http://www.modality-solutions.com.
About Modality Solutions, LLC
Founded in 2011 Modality Solutions delivers integrated cold chain management solutions for highly regulated industries. Its Advantage Transportation Simulation Laboratory™ tests the effects of transportation environmental hazards on formulations. Key areas of service are: ensure regulatory compliance; deliver cold chain thermal packaging design / qualification and controlled-environment logistics solutions; conduct transport simulation testing; decrease development cycle times for a faster route-to-market; develop transport validation strategies to support global regulatory applications; and clinical trial operations. Additional information can be found at http://www.modality-solutions.com.