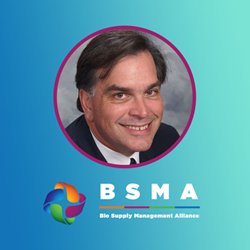 We are committed to helping the industry to reimagine the biopharmaceutical cold chain logistics network and explore shared-use strategies and revise the current industry approach," President Gary Hutchinson
HOUSTON (PRWEB) November 04, 2020
Modality Solutions, a Houston-based biopharmaceutical cold chain validation engineering firm, was a sponsor and session panelist at the Bio Supply Management Alliance (BSMA) October 22-23, 2020 virtual conference.
Known for its driving innovation in the life sciences supply chain, BSMA brought together experts in the global healthcare industry. The conference addressed "Building the NextGen Supply Chain of Life Sciences Post COVID-19 Pandemic." Keynote presentations and panel discussions tackled how the supply chain is transforming in the USA for resilience, agility, and sustainability.
The organizations represented at the conference were significant biotech companies, including the Gates Foundation (Vaccine Distribution Mission), COVID-19 vaccine manufacturers and distributors, international transportation companies, regulatory compliance and QA, digital transformers, technology innovators, and exceptional change agents from academia.
On day one, the panel discussion topic "Reimagination of the Decimated Transportation Network After the COVID-19 Pandemic Attack" featured a diverse group of industry leaders. Moderator, Joel Glende, BSMA Executive Vice President Manufacturing & Academia Member Engagement led a lively discussion between panelists: Gary Hutchinson, President, Modality Solutions; Jeff Tucker, CEO, Tucker Company Worldwide; Lorant Kovacs, Head of Vertical Market Healthcare Americas Region, Schenker Americas; Peter Dörr, Director International Distribution, ADD Global Supply Chain, Abbott Diagnostics; and Richard Ettl, CEO, SkyCell.
The building block themes of the life sciences supply chain conference were:

Ensuring supply of materials APIs and services from global suppliers
Building the NextGen supply chain for life sciences – the Ilumina Journey
Preparedness for the distribution of emerging vaccines for COVID-19
Transportation network readiness for COVID-19 vaccines
Digital transformation of life sciences for resilience and agility
Virtual audits of drug manufacturers and their global suppliers
Co-founded in 2011 by Gary Hutchinson and Daniel J. Littlefield, Modality Solutions is a global biopharmaceutical cold chain validation engineering firm. It supports fast-track regulatory approval for biologics and specialty therapies. As industry logistics network experts, it provides engineering services focused on the qualification of thermal packaging, the selection of monitoring & controls systems, the execution of transport validation, the design of controlled-environment logistics, and the operational support for clinical trials.
"As the global biopharmaceutical industry assesses the long-term impact the COVID-19 virus has on the cold chain for their life-saving products," said President Gary Hutchinson. "We are committed to helping the industry to reimagine the biopharmaceutical cold chain logistics network and explore shared-use strategies and revise the current industry approach. We need to evaluate the risk in the overreliance on a current general B2C delivery network and implement industry-wide reforms."
For more information about BSMA, visit https://www.biosupplyalliance.com.
To learn more about Modality Solutions, visit https://www.modality-solutions.com.
About Modality Solutions, LLC
Founded in 2011, Modality Solutions, a leading biopharmaceutical cold chain validation engineering firm, specializes in integrating cold chain operations, developing transport validation strategies, supporting global regulatory applications, and global clinical trial operations. By combining the best practices of process validation, systems qualification, and risk assessment, Modality Solutions has earned the reputation of ensuring regulatory compliance, drug product quality, and patient safety. As a 2019 and 2020 Inc. 5000 and Houston Business Journal Fast 100 company, Modality Solutions' team of engineers are experts at delivering cold chain thermal packaging design and qualification, conducting transport simulation testing with its Advantage Transport Simulation Laboratory™, and designing controlled environment-logistics solutions. For more information, visit https://www.modality-solutions.com.