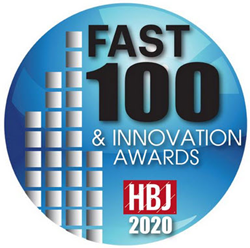 Our mission is to help our clients successfully launch new therapies and assist them in preparing for regulatory reviews. And I'm proud to say our team is made up of the brightest engineering professionals in biopharmaceutical cold chain logistics," said Hutchinson
HOUSTON (PRWEB) October 08, 2020
Modality Solutions, a Houston-based biopharmaceutical cold chain validation engineering firm, is pleased to announce it made the Houston Business Journal's 2020 Fast 100 rankings of the city's fastest-growing privately held companies for the second consecutive year. Companies ranked by revenue growth from 2017 to 2019. The engineering firm moved up from No. 90 on the 2019 list to No. 62 on the 2020 list with 65 percent revenue growth.
"Amid the challenging business environment of COVID-19, the Houston Business Journal is proud to once again recognize the fastest-growing private companies in Houston," said Bob Charlet, Publisher. HBJ announced in July the list of Fast 100 companies in alphabetical order, with the final rankings revealed during a live online broadcast September 18.
To qualify for the Fast 100, companies on the list must meet the following criteria:

Be headquartered in the Houston area.
Be for-profit and privately held.
Been in operation for at least five full fiscal years and have earned at least $1 million in revenue in the latest fiscal year.
Information for the Fast 100 list was obtained from questionnaires completed by company representatives and compiled by HBJ research.
Award-winning Modality Solutions also made the Inc. 5000 list two consecutive years. For 2020, it reported a three-year revenue growth of 71 percent. The Inc. 5000 list represents a unique look at the most successful companies within the American economy's most dynamic segment--its independent small businesses. Modality Solutions was one of four engineering firms from the metro area and one of 11 in the State of Texas.
Co-founded in 2011 by Gary Hutchinson and Daniel J. Littlefield, Modality Solutions is a global biopharmaceutical cold chain validation engineering firm. It supports fast-track regulatory approval for biologics and specialty therapies. As industry logistics network experts, it provides engineering services focused on the qualification of thermal packaging, the selection of monitoring & controls systems, the execution of transport validation, the design of controlled-environment logistics, and the operational support for clinical trials.
"Modality Solutions is pleased to be recognized for the second year in a row for our sustained managed growth in the Houston region," said President Gary Hutchinson. "Our mission is to help our clients successfully launch new therapies and assist them in preparing for regulatory reviews. And I'm proud to say our team is made up of the brightest engineering professionals in biopharmaceutical cold chain logistics."
To learn more about Modality Solutions, visit https://www.modality-solutions.com.
About Modality Solutions, LLC
Founded in 2011, Modality Solutions, a leading biopharmaceutical cold chain validation engineering firm, specializes in integrating cold chain operations, developing transport validation strategies, supporting global regulatory applications, and global clinical trial operations. By combining the best practices of process validation, systems qualification, and risk assessment, Modality Solutions has earned the reputation of ensuring regulatory compliance, drug product quality, and patient safety. As a 2019 and 2020 Inc. 5000 and Houston Business Journal Fast 100 company, Modality Solutions' team of engineers are experts at delivering cold chain thermal packaging design and qualification, conducting transport simulation testing with its Advantage Transport Simulation Laboratory™, and designing controlled environment-logistics solutions. For more information, visit https://www.modality-solutions.com.