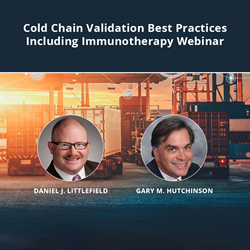 With more than 35 international cold chain regulatory compliance guidance documents, global standards are becoming more comprehensive and increasingly complex," said President, Gary Hutchinson. "Our webinar is positioned to help companies build their reputation of reliability with regulators."
HOUSTON (PRWEB) November 22, 2019
Modality Solutions, biopharmaceutical cold chain engineering firm, hosted a live webinar covering a step-by-step cold chain validation guide to meet and exceed increasingly stringent regulatory expectations including monoclonal antibodies, antibody-drug conjugates, and cell therapies. Targeting complex cold chain biopharmaceutical industry leaders, the September 19, 2019 webinar was well received and attended. Due to the high volume of interest in the topic, Modality Solutions is providing free on-demand replays of the 45-minute presentation. Click here to access the cold chain validation webinar.
Modality Solutions' principals Gary M. Hutchinson and Daniel J. Littlefield presented the webinar entitled "Cold Chain Validation Best Practices Including Immunotherapy" in conjunction with Pharmaceutical Technology and Business Review Webinars.
Modality Solutions has access to the latest regulatory agency requirements for emerging therapeutics. Personalized therapies employing ADC (Antibody Drug Conjugates) and CAR T-cell (Chimeric Antigen Receptor T-cell), have complex cold chains. This difficulty presents challenges in the transportation, chain of custody, traceability, and storage of the cells, which creates a significant risk in the treatment process. New validation approaches based on regulatory responses to previously submitted immunotherapy cold chains are shared in the webinar.
Four of the valuable webinar learning objectives include:

How to integrate stability data and testing for environmental hazards during transport of a drug product into a validation master plan for cold chain distribution.
How to qualify your transport lanes with an operational and performance qualification approach.
Why ASTM D4169 is no longer enough - with examples of drug product testing for distribution vs. packaging qualification testing.
How to put all of the above together for filing and inspection.
"With more than 35 international cold chain regulatory compliance guidance documents, global standards are becoming more comprehensive and increasingly complex," said Modality Solutions President, Gary Hutchinson. "New therapies, accelerating costs, sustainable technologies, and emerging markets demand validated cold chain networks that consistently produce low-cost and high-quality outcomes for patients--with a minimal variation, delivering value to a company's supply chain. Our webinar is positioned to help companies build their reputation of reliability with regulators."
Business Review Webinars (BRW) is a thought leadership portal for business professionals in the pharmaceutical, healthcare, food & beverage, energy, packaging, supply chain, and technology industries. Its goal is to create a high-level discussion between industry thought leaders and business professionals who are actively facing the day-to-day challenges of their respective industries. Topics are based around an editorial plan established by leading editors and analysts.
To access the on-demand replay of "Cold Chain Validation Best Practices Including Immunotherapy" go to https://modality-solutions.securechkout.com/cold-chain-validation-best-practices-webinar
To learn more about Modality Solutions visit https://www.modality-solutions.com.
About Modality Solutions, LLC
Founded in 2011, Modality Solutions, a biopharmaceutical cold chain engineering firm, specializes in integrating cold chain operations, developing transport validation strategies, supporting global regulatory applications, and supporting global clinical trial operations. By combining the best practices of process validation, systems qualification, and risk assessment, Modality Solutions has earned the reputation of ensuring regulatory compliance, product quality, and patient safety. As a 2019 Inc. 5000 company, Houston Business Journal Fast 100, Entrepreneur 360™, and Forbes Technology Council company, Modality Solutions' team of engineers are experts at delivering cold chain thermal packaging design and qualification, conducting transport simulation testing with its Advantage Transport Simulation Laboratory™, and designing controlled-environment logistics solutions. For more information, visit https://www.modality-solutions.com.